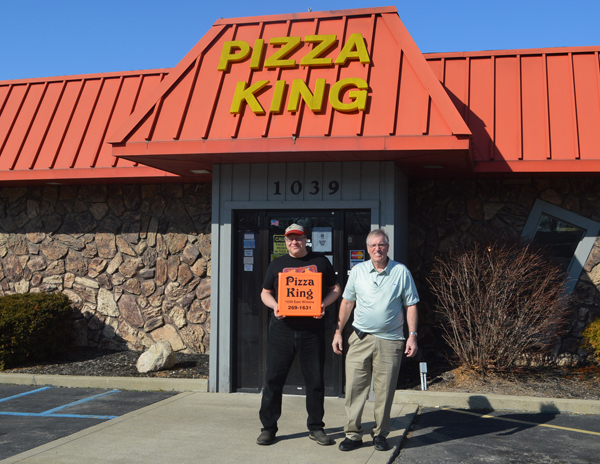 After over 50 years in the pizza business, Patrick O'Connell is retiring to focus more on family, coaching, golf and the games of Bridge and Texas Hold 'Em.
He's selling his six Pizza King locations to corporate, with closing scheduled for March 31.
"It's time. It's been 50 years and five months. I'm not the type that just sits at the office. I went out and worked the stores. My love was working the stores and being around the employees and seeing my customers, and I can no longer do that. I go in and my back is hurting me within 20 minutes," O'Connell said in an interview Feb. 26 at Pizza King, 1039 E. Winona Ave., Warsaw.
Reflecting back on his personal history with Pizza King, O'Connell, 71, said the Winona Avenue location was established in 1964. When it opened up, there was just the dining room, a back room and the kitchen. There was a little window for dining room services. O'Connell said on the Thursday before Labor Day weekend in 1970, he took the Winona Avenue location over.
"I was out at RR Donnelly, working out there, which I enjoyed. I saw a pizza place for sale called Morris Pizza down by the railroad tracks here on Winona. I went into the bank to see about a loan to buy them out, and the guy said, 'I've got something better for you. I've got this group of seven guys I'd like you to meet.' So I set up a meeting with the attorney and the accountant … and I met with them, and they offered to bring me aboard as general manager of Columbia City and Winona Avenue (Pizza Kings), which were the two we had at the time, because they were going through some difficult times," O'Connell said.
When O'Connell started out at Pizza King, the business was in the red. He said it took him six months to get them into the black, and as a bonus they gave him five shares of stock.
"Years and years and years went on and I increased my little bit of ownership," he said.
Along the way, O'Connell said they rented a little restaurant on Lake Street for another Pizza King that was across from the drive-in movie theater. John T. Feaster, Winona Avenue Pizza King manager, who has worked for O'Connell since 1988, said the little restaurant sat across from the Moose Lodge. That little restaurant has since become a parking lot.
"We had a little place out there that was ideal. John ran that by himself," O'Connell said.
"I loved that little place," Feaster said. "Of course, there also was the drive-in so we got a lot of business through them."
They ended up buying property across from the Moose from the Clemens family, and the Pizza King moved over there. Feaster thought that was probably in the mid-1990s.
Sometime during that timeframe, O'Connell said he decided to go on his own, even though he had ownership in the Pizza King locations here. He opened up a store in Goshen, and that's when Feaster began working with O'Connell. O'Connell then opened another one in Nappanee.
"So he helped me with that, and then they ran into trouble with these stores and they came after me again to come back and they made me an offer I couldn't refuse: more stock, more ownership, which would put me up over 20% of ownership, but they wouldn't let me keep the other ones open so we shut those down. I came back here again," O'Connell said.
The Pizza Kings here were in the red again, but O'Connell said he got them back in the black and profitable after nine months.
The three Pizza King locations opened at that time were the Columbia City, Winona Avenue and Lake Street stores. After a period of time with them, O'Connell left again to be the head baseball coach at Tippecanoe Valley High School and to open up a little diner. He said that was 1996-97. He worked at Gordy's in 1998, still retaining his ownership in Pizza King.
In 1999, O'Connell bought the Syracuse Pizza King. In 2000, he opened the North Webster location. O'Connell said he's been at the North Webster store since 2000, seven days a week. "It is so busy there in the summertime, that it's almost impossible just for a regular crew to keep up. We have to double or triple our staff. Our sales go crazy up there, from Memorial Day to Labor Day," O'Connell said.
The North Webster restaurant started attracting customers from Warsaw, O'Connell said. He "jokingly" made an offer to the group that owned the Warsaw and Columbia City locations to buy them out, and they laughed at him because his offer was too low. He thinks that was about 2003. But in 2004, the group came back to O'Connell and made him an offer for him to buy them out.
"I bought them out, I bought all of the other stockholders out," O'Connell recalled. That put him at owning four stores by 2004 – Columbia City, Syracuse, North Webster and the Winona Avenue location in Warsaw. While O'Connell had been gone, the group of owners had decided to sell the Lake Street store to a Japanese restaurant. O'Connell eventually bought the Lake Street store back. That gave him his fifth store.
"John came with me all the time. Whenever I went somewhere, he went with me, except for when I went to Syracuse and when I left here for that four years where I had that diner and worked at Gordy's," O'Connell said.
In 2006, O'Connell bought Silver Lake Pizza King, which gave him his sixth store. That same year, he also bought the Dam Landing in Rochester, though it's not affiliated with Pizza King at all.
Though it might not sound like O'Connell had any spare time, he found time to coach.
"It's my favorite pastime. I started coaching Little League in summer 1969. My dad asked me. He was the president of the Sacred Heart Homeschool Association and he asked me if I'd like to assist the football and flag football coach over there. I said, of course, that would be great. I did that, and then three weeks before the season started the head coach resigned, so they turned the program over to me my first year with no experience. And I went in there and did it and that was my start of football, basketball and track over there for 15 years, and I loved every minute of it," O'Connell said.
Meanwhile, he was still coaching Little League, for 20-22 years. He did American Legion Baseball for eight years out of Warsaw. He coached a Big League team, getting within two games of the World Series. O'Connell head coached at TVHS for three years, from 1996-99. He got into officiating for five sports, starting with baseball and softball. He officiated basketball for 12 years until his kids came up through the Warsaw school system. He officiated football and volleyball, officiating volleyball for 15-16 years until about 2012. He officiated football for about 23 years, retiring from that in about 2014.
O'Connell got back into coaching when his son-in-law asked him to help him with a seventh-grade team at Fort Wayne Heritage. O'Connell ended up the assistant coach for the freshman team at Warsaw under coach Doug Ogle until Ogle retired from coaching last year. O'Connell then followed his son, Nate O'Connell, to Wawasee where he coaches the eighth-grade basketball team and assists at the varsity level.
"How many years will I go? I have no idea. As long as my body holds out," O'Connell said.
He said he is retiring from the pizza business so he can have some sort of lifestyle.
"Our past four years has been the best four years we've ever had, sales wise. It was prime time to get out, considering all the factors," O'Connell said. "And look, I've got six kids and 17 grandkids. They're all going to be athletes. … So I'd like to be healthy for the next 10 years to watch my grandkids come up through the system."
He said corporate has 52 other store locations and will be buying all six of his.
Even though O'Connell is retiring, Feaster, 52, plans to stay at the Winona Avenue location.
"I've known Pat forever," Feaster said. "… The people. I know so many customers by heart. There's this crazy feeling when you're dealing with people who are coming in with their kids and you remember them from when you started and they were the children, and now those children have grown up, married, have children of their own. There really is something special to this huge, extended family."