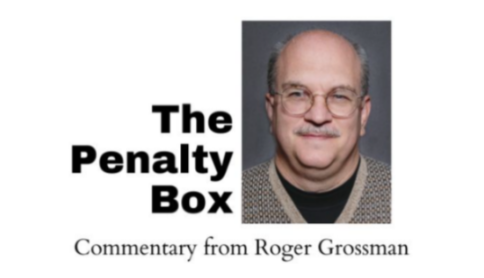 By Roger Grossman
News Now Warsaw
I had every intention of writing about the Notre Dame Football game I took my son to on Saturday, but there were other things that needed mentioning, so I am giving you a multi-subject offering this week.
But we start with the Irish.
I love Notre Dame.I love being on campus. I love going to sporting events there. I love their teams.
I love the Irish.
Back in early August, my wife said she and my teenage daughter were going shopping all day last Saturday, and that I was free to do something with Oliver.
Sweet!
I immediately checked the Cubs schedule, but they would be spending the weekend in Arizona. I was pretty sure my wife wouldn't sign off on that road trip.
The Tin Caps and South Bend Cubs' seasons would be over.
Notre Dame was home, but I was pretty sure that there wouldn't be any seats (or at least two seats together) for that game against Central Michigan.
But the ND ticket website has a map that allows you to choose a section in the stadium and see what seats are available.
To my stunned surprise, there were seats together for that game—I mean, a LOT of seats in that section. Out of curiosity, I looked at other sections in my price range to see what the availabilities looked like.
I found five different sections with whole rows of tickets waiting for someone to snag them.
I chose my tickets and invited my brother-in-law and his son to join us.
It doesn't matter who they play, game day in South Bend is special.
We bought a parking pass for a lot north of the toll road operated by the university, and they rent high school buses and pay drivers to shuttle fans to the stadium and back. That was really helpful.
From the band's pregame show to seeing the mural of Touchdown Jesus from our seats to the kindness of the ticket scanners and ushers inside the stadium, there is no place better—and save your emails…your favorite school's experience isn't better.
We are now more than have way through the regular season of high school football. While we don't know everything there is to know yet, there are a few things I think we do know.
Warsaw is 5-0 and has been very stingy on the defensive side of the football. Through the first 2 games of the season, the Tiger defensive unit was literally winning football games for them because the offense was having trouble with losing fumbles.
But in their last three games, the Tigers have found their groove in their patented running game to the tune of 1,066 yards. To help you with the math, that's almost 90 yards per quarter.
After running through NorthWood last Friday, the Tigers will face the mighty Mishawaka Cavemen at Steele Stadium this Friday.
For Tippecanoe Valley, we wondered last spring if they would even be able to scrounge up a 9-game schedule after the Three Rivers Conference told them to hit the road a year before the Vikings had planned.
They did fill out their dance card, and I gave them a huge pat on the back for that this summer.
Ironically, despite them playing four new schools in the first five weeks of the season, the scoreboard at the end of those games looked identical to the schools in the TRC they'd been playing.
The Vikings are averaging almost 42 points per game while only allowing 11. They have scored at least 30 in their last four outings and 112 combined in their last two.
West Lafayette is still out there for them, and they are 4-1. Outside of the Red Devils, Valley will be favored in their remaining games.
Unfortunately, there are four teams ranked in the top 10 of 3A in last week's poll in their sectional.
And my neighbor across the street asked me to go play disc golf with him back in the spring. I have seen others participating, and I agreed to go out with him and give it a shot.
I liked it.
I bought three discs for the different kinds of throws you need to make, just like golf clubs.
You can play by yourself or with a group of friends. You can play 9 holes in a little over an hour (depending on how many people you are with), a disc is easy to find in the grass and it's a nice walk.
The only bad part is that you throw the disc with the same hand—well at least I think most people do—and that hand and arm can get pretty sore.
I'll put up with that.