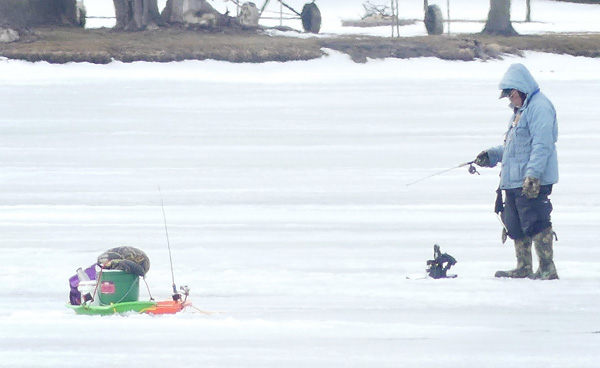 It's probably time to call it a season when it comes to ice fishing as warmer temperatures are making the situation dangerous.
Tuesday around 6:45 p.m., an ice fisherman on Palestine Lake fell through and had to be rescued by nearby fishermen, Burket-Seward Township Fire and Rescue Chief Kevin McSherry said.
McSherry said the man was uninjured, but that the fire department had to send six firefighters out to retrieve the man's tackle, tent and sled.
"Right now, what we're dealing with is the snow leaving the fields and running to our lakes, and there's an enormous amount of water running underneath the ice, as well as the sun and wind blowing, 43-, 44-degree temperature on the other side of the ice, so we're really deteriorating on both sides," McSherry said. "What the ice fisherman sees on top is not his only challenge. Knowing the lake is paramount in this case. If you just have a pond or a small body of water where there is very little flow, you're not gonna get much erosion from underneath of the ice, but the lake I?mentioned – Palestine and Yellow Creek – they are the worst ones we have down here for that flow underneath."
McSherry said ice fishermen are telling each other they better get out on the ice if they want to get in on the fishing or it's gonna be gone.
"That's true," he said. "I just don't want people to go out there in a big hurry and not think about safety first."
McSherry said two of his firefighters were suited up in the "Gumby Suits" and the rest had life vests on. The fisherman who fell through was about 240 yards from shore, McSherry said.
"When this ice gets wet and when the snow cover gets wet, it becomes real heavy for the ice to support," he said. "It was almost open water where he fell in, because when he went in, it broke a bunch of ice around it, and they probably broke more getting him solid ice to pull himself up on."
Nathan Marsili, a meteorologist at the National Weather Service North Webster post, said ice fishing is not going to be safe any longer.
Temperatures will be in the upper 30s today, low 40s Friday and around 50 degrees both Saturday and Sunday, Marsili said.
The weather is forecast to cool back down Monday to around 40 degrees and slowly warm back up to the mid-40s by Wednesday.
"We've gotten quite a bit warmer than we were anticipating, so that really sped up this melting here," he said.