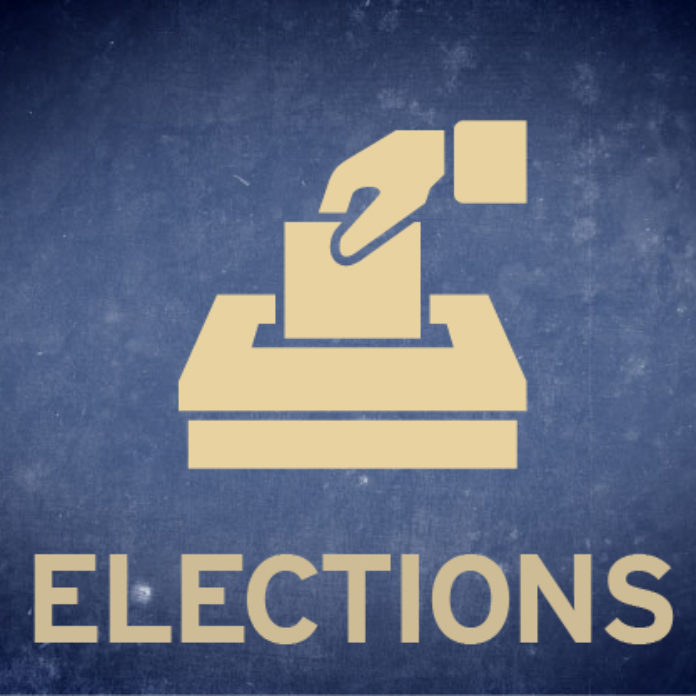 There is one more day of early voting before things turn to the regular polls on Election Day tomorrow.
But if you are waiting until Tuesday to vote, make sure you know where you are headed when you head out to vote. You can check out the list of polling places below.
Polls are open from 6 AM to 6 PM on Tuesday, and if you are in line after the 6 PM closing time, you will still have the opportunity to vote. To avoid the long lines or waits, go during a "down time" at the polls, which are most likely to happen outside of lunch hours between 11 AM and 1 PM and after 4 PM, when people start to steadily leave the office.
We will have live coverage from the Kosciusko County Clerk's office Tuesday evening starting at 6:50 PM on News Now Warsaw with local numbers, and all around coverage through midnight from our partners for state and national updates.
Kosciusko County Polling Places
Clay Township
Claypool Lions Building: 205 West Calhoun Street, Claypool, IN, 46510
Etna Township
Heritage Park Building: 338 South Walnut Street, Etna Green, IN, 46524
Franklin Township NEW
Mentone Fire Station: 201 West Main Street, Mentone, IN, 46539
Harrison Township
First Precinct: Atwood Community Center: 213 Hovey Street, Atwood, IN, 46502
Second Precinct: Mentone Fire Station: 201 West Main Street, Mentone, IN, 46539
Third Precinct: Burket United Methodist Church: 102 South Market Street, Burket, IN, 46508

Jackson Township
Amazing Grace Community Church: 202 West Arthur Street, Sidney, IN, 46562
Jefferson Township
Mount Tabor Hall: 8424 North 800 West, Etna Green, IN, 46524
Lake Township
Town Hall Meeting Room: 604 North Jefferson Street, Silver Lake, IN, 46982
Monroe Township
Amazing Grace Community Church: 202 West Arthur Street, Sidney, IN, 46562
Plain Township
First Precinct *NEW: Leesburg Lions Community Building: 114 West School Street, Leesburg, IN, 46538
Second Precinct: Leesburg Lions Community Building: 114 West School Street, Leesburg, IN, 46538
Third Precinct *NEW: Ivy Tech Community College: 2545 Silveus Crossing, Warsaw, IN, 46582
Fourth Precinct *NEW: Ivy Tech Community College: 2545 Silveus Crossing, Warsaw, IN, 46582
Fifth Precinct *NEW: Ivy Tech Community College: 2545 Silveus Crossing, Warsaw, IN, 46582
Sixth Precinct: Leesburg Lions Community Building: 114 West School Street, Leesburg, IN, 46538
Seventh Precinct *NEW: Ivy Tech Community College: 2545 Silveus Crossing, Warsaw, IN, 46582
Prairie Township
Atwood Community Center: 213 Hovey Street, Atwood, IN, 46502
Scott Township
Mount Tabor Hall: 8424 North 800 West, Etna Green, IN, 46524
Seward Township
Burket United Methodist Church: 102 South Market Street, Burket, IN, 46508
Tippecanoe Township
North Webster Community Center: 301 North Main Street, North Webster, IN, 46555
Turkey Creek Township
ALL PRECINCTS: Syracuse Community Center: 1013 North Long Drive, Syracuse, IN 46567
Van Buren Township
ALL PRECINCTS: Wawasee Community Bible Church: 2035 East 1300 North, Milford, IN, 46542
Washington Township
Pierceton Community Building: 105 West Walnut Street, Pierceton, IN, 46562
Wayne Township
First Precinct *NEW: Christ's Covenant Church: 2090 East Pierceton Road, Winona Lake, IN, 46590
Second Precinct: Winona Lake Grace Brethren Church: 1200 Kings Highway, Winona, Lake, 46590
Third Precinct *NEW: Winona Lake Grace Brethren Church: 1200 Kings Highway, Winona, Lake, 46590
Fourth Precinct: Winona Lake Grace Brethren Church: 1200 Kings Highway, Winona, Lake, 46590
Fifth Precinct: New Life Christian Church, 744 South 325 East, Warsaw, IN, 46582
Sixth Precinct: Moose Lodge, 1815 West Lake Street, Warsaw, IN 46580
Seventh Precinct: Moose Lodge, 1815 West Lake Street, Warsaw, IN 46580
Eighth Precinct *NEW: First Christian Church, 115 Park Ridge Drive, Warsaw, IN, 46580
Ninth Precinct *NEW: First Christian Church, 115 Park Ridge Drive, Warsaw, IN, 46580
Tenth Precinct *NEW: Winona Lake Grace Brethren Church: 1200 Kings Highway, Winona, Lake, 46590
Eleventh Precinct: New Life Christian Church, 744 South 325 East, Warsaw, IN, 46582
CITY OF WARSAW
FIRST WARD
First Precinct: Community Life Center, F/K/A United Pentecostal Church, 825 North Harrison Street, Warsaw, IN, 46580
Second Precinct: Oakwood Cemetery Chapel, 421 North Maple Street, Warsaw, IN, 46580
Fourth Precinct: Community Life Center, F/K/A United Pentecostal Church, 825 North Harrison Street, Warsaw, IN, 46580
SECOND WARD
First Precinct: Shrine Building – Small Room: 1400 East Smith Street, Warsaw, IN, 46580
Second Precinct *NEW: Shrine Building – Small Room: 1400 East Smith Street, Warsaw, IN, 46580

THIRD WARD
First Precinct: Shrine Building – Small Room: 1400 East Smith Street, Warsaw, IN, 46580
Second Precinct: Church of God, 1059 Rozella Road, Warsaw, IN, 46580
Third Precinct: Church of God, 1059 Rozella Road, Warsaw, IN, 46580
FOURTH WARD
First Precinct *NEW: Center Lake Pavilion, 117 East Canal Street, Warsaw, IN, 46580
Second Precinct: Center Lake Pavilion, 117 East Canal Street, Warsaw, IN, 46580
Third Precinct: Center Lake Pavilion, 117 East Canal Street, Warsaw, IN, 46580
FIFTH WARD
First Precinct: Center Lake Pavilion, 117 East Canal Street, Warsaw, IN, 46580
Second Precinct: Center Lake Pavilion, 117 East Canal Street, Warsaw, IN, 46580
Third Precinct: Center Lake Pavilion, 117 East Canal Street, Warsaw, IN, 46580