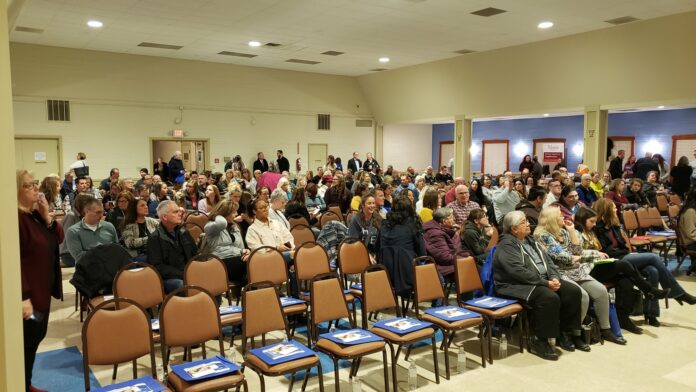 Stories of recovery, drug awareness and how to battle the opioid epidemic were all discussed at Center Lake Pavilion on Wednesday evening.
Over 100 people showed up for the forum in which the Bowen Center put together for the public to hear from those recovering from opioid addiction, and from those non-profits in the area who assist with recovery.
Mayor Joe Thallemer was the emcee for the event and started the event talking about those in the room who were going to share their stories. He wanted to also stress that it's not just opioids causing issues in the area. Both him and Kosciusko County Sheriff Kyle Dukes, who spoke later in the forum, emphasized that meth has also been a growing problem in the area.
Thallemer talked about the importance of law enforcement and the work of NET 43, but stressed that "as a community,  to help or partner with all the users or families to try to break this cycle of addiction. We can't just sit back and let these guys make arrests without trying to intervene."
After the Mayor spoke, a video was shown called "Everything You Know About Addiction Is Wrong," which featured speaker Johann Hari talking about what is really behind addiction after he went on a journey to figure out ways to tackle the age-old problem.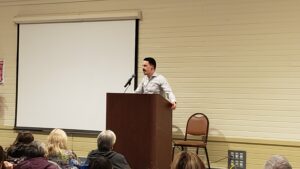 Following the video, the first speaker told his story. Phil said he began using drugs at the age of nine. He said he was first locked up at the age of 14 and was sent to a maximum security facility at the age of 16. He talked about his struggling times going in and out of jail, saying that he "accepted his situation. (When I would get out) I tried to be a better addict and a better criminal."
One story Phil recalled was a night he was out with friends who were all brothers. Of the three brothers, two died from an overdose that night after taking Xanax, other opioids and drinking. Phil said he "blacked out" that night and woke up the next morning in a jail cell. "When (the police) told me that I had jumped over a pharmacy counter and taken things at gunpoint, I was astonished. I ended up going to jail for another six years after that."
Phil continued to say that he was facing 30 years in prison, but the judge sent him to treatment rather than into prison. He said that he was "eternally grateful" for that decision. Phil now has been raising his son for a year, he has reconnected with his family and owns a small business in Syracuse.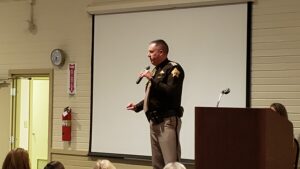 Next, Sheriff Dukes talked about the enforcement efforts of NET 43 and his interactions with those who have been going through the JCAP program.
First, Dukes mentioned that the opioid crisis in the county is very serious. "When you talk to NET 43 officers, deputy sheriffs, we have a very serious meth and heroin problem. In the pounds. Pounds of meth that they've taken off the street, and I mean pounds. It's unbelievable."
Dukes stressed the importance of calling in tips to the NET 43 hotline. "We received 110 tips in one week alone." He also said that those that call in the tips typically expect a phone call back, but with the amount of tips they have been receiving, it can be difficult to follow up with over one-hundred different people. "We hear you, loud and clear." He mentioned that the calls make a huge difference and they are looking into every tip they get. "Even the smallest thing can lead to something big."
After Dukes spoke, Courtney Jenkins, who is the JCAP coordinator, spoke about the program and how she got involved. "The reason I became involved was because my son was addicted to heroin and meth. I was just a mom. I never thought in a million years that my son would be one of those kids. But he was."
Jenkins credited the many non-profits and various volunteers that come in to talk with those in the JCAP program.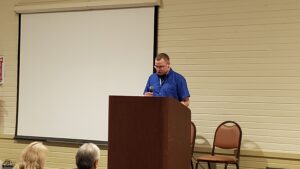 Josh was the second recovering addict to tell his story during the forum. He said it started with weed at the age of 14, then began taking pills after his stepdad died. He mentioned that the habit continued when a friend overdosed on drugs. Josh says that his recovery has been going well because of the support he received through the JCAP program, along with family.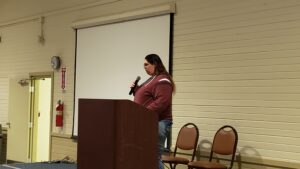 Mindy was the third person to speak about her background with drugs and said she started using crack cocaine and smoked weed at 16. "I was living in Elkhart County originally, then I moved to Kosciusko County, but I didn't know anyone."
She also got addicted to synthetic marijuana. Between her dad passing away and going to jail, Mindy said that she had to change her lifestyle to take care of her family. She said her mom has Parkinson's Disease.
Mindy started attending sessions through Strengthening Families and mentioned a big support was her 12-year old daughter, "It felt great to hear her say that she was proud of me."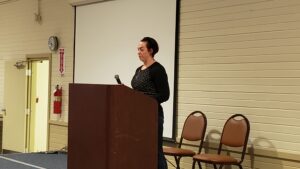 Jenna, the fourth recovering addict to speak, spoke about her time in the Kosciusko County Jail and what she initially lost, but had now recovered. "I lost my mother to addiction, became homeless, I had nowhere to go." She said that the community was what helped her the most to help her battle.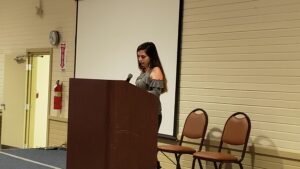 Emily said her addiction got started after receiving painkillers following a tooth extraction. Emily spoke a very emotional story, holding back tears many times, saying that the drugs made her life "spiral out of control."
"The night I went into labor with my son, I was snorting methadone. I'm lucky that my son was not born addicted (to the drugs)." Emily continued to say that there was one day that she dropped her son on his head and fractured his skull. Her son was given to her parents and she was eventually charged with neglect.
Upon having a second child, Emily put him up for adoption. "I had to take care of my life and get what I need to do done."
At the end of her story, Emily said that she now lives a "boring life," but she wouldn't give that up for the world. That line got a good chuckle out of the crowd in attendance, and even Emily laughed a little herself after saying that line.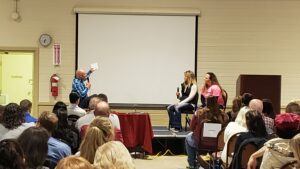 Lastly, speaking from the Bowen Center was Graham and Shelly Metzger, along with Amanda, who was also a recovering addict.
Amanda said that community and keeping herself busy was a big part of her recovery. A video was shown before the three talked, showing them enjoying time out on the lake in a boat. Amanda said she enjoys keeping herself busy with fun activities such as bike riding.
Graham said that isolation and boredom can be triggers for addicts, but having connections with different people can help keep your mind on other things.
At the end of the forum, Kosciusko County Councilwoman Kimberly Cates asked people to donate time, money and themselves to help fight the epidemic. She also encouraged those in attendance to reach out to the various non-profits that had booths set up around the pavilion.
If you were not able to make it to the forum Wednesday, another one will be held in Syracuse on Thursday, January 30th from 6 to 8 PM at the Syracuse Community Center, 1013 North Long Drive. Anyone with questions is encouraged to call 574-527-5001.