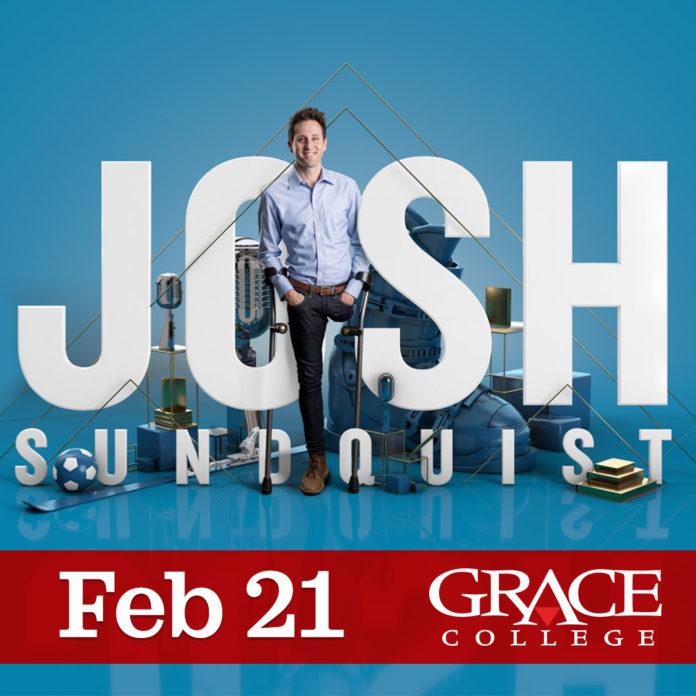 Josh Sundquist will keynote Career Week Chapel at Grace College on Thursday, Feb. 21 at 10:30 a.m. in the Manahan Orthopaedic Capital Center, 610 Wooster Rd., Winona Lake.
Sundquist is an international motivational speaker, blending humor with life experiences to inspire audiences everywhere.  He has authored two memoirs: National Bestseller "Just Don't Fall," and "We Should Hang Out Sometime," currently being developed into a movie.  His first novel, "Love and First Sight," was published in 2017.
Sundquist's material is his life.  As both an author and a comedian – he performs a one-man show weekly in Los Angeles – Josh communicates the lessons and humor of his unique life story.  Josh was diagnosed with bone cancer at age nine.  He underwent chemotherapy and the amputation of his left leg before being declared cancer-free at age 13.  Three years later, he began ski racing and in 2006 Josh Sundquist competed as a member of the U.S. Paralympic Ski Team.  He continues to excel in athletics, now playing on the U.S. Amputee Soccer Team.
"We are thrilled to welcome Josh to campus on February 21," said Denise Terry, director of the Center for Career Connections at Grace College.  "His is a remarkable story of overcoming obstacles and demonstrating true grit in the face of incredible life challenges.  We hope many from the community will join us for what I'm confident will be a memorable and inspiring presentation."
Sundquist's appearance will take place during Career Week, a week organized annually by the Center for Career Connections at Grace College to equip students with information and perspectives to guide the trajectory of their education.  Other Career Week events include Alumni Perspectives, sessions with alumni from a variety of disciplines and fields who will present about their career journeys, and a Career Fair which will include an anticipated 75 employers from around the region to interact with students and share about opportunities in their companies and organizations.
Career Week Chapel with Josh Sundquist on Feb. 21 is free and open to the public; members of the press are also welcomed to attend.