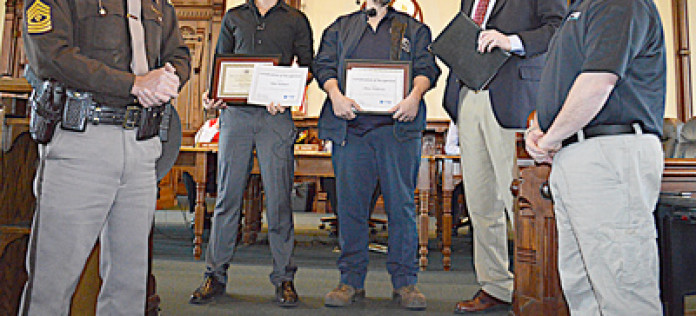 Two men were credited this morning with life-saving actions during a multi-vehicle accident March 11.
Tyler Rothhaar, a Grace College student, and Chriss Willavize, a delivery driver for an alcohol supplier, were recognized for pulling Jeremy and Crista Noland, both from Columbus, Ohio, from their burning vehicle during the accident at U.S. 30 and Ind. 13 near Pierceton. The men were honored by the Kosciusko County Sheriff's Department, Grace College and Lutheran EMS Kosciusko during the Kosciusko County Commissioners meeting.
Rothhaar was sitting at a red light when a semi truck slammed into the Nolands' vehicle in the lane right beside him, according to information from KCSD Sgt. Chad Hill, while Willavize was at a nearby gas station. The Nolands' vehicle was sent into the side of a gas tanker truck and then bounced back to strike the first semi's trailer, bursting into flames in the process.
Rothhaar and Willavize immediately ran to the burning vehicle and pulled out the driver and passenger, who were soon treated by arriving firemen and paramedics. They have been released from the hospital since the accident as has the driver of the tanker, who suffered a possible leg fracture, according to Hill.
Rothhaar's identity was known at the time of the accident but Willavize's was not known until just recently, Hill said, when he came forward and his account of the accident matched Rothhaar's. The two met outside before the meeting for the first time since the accident.
Also this morning, KCSD Sheriff Aaron Rovenstine said the 2015 jail inspection report just released by the Indiana Department of Corrections was "excellent" aside from a few foundation issues. He said male and female inmates were interviewed and said the staff treats them well, they felt safe in the facility and medical care is good.