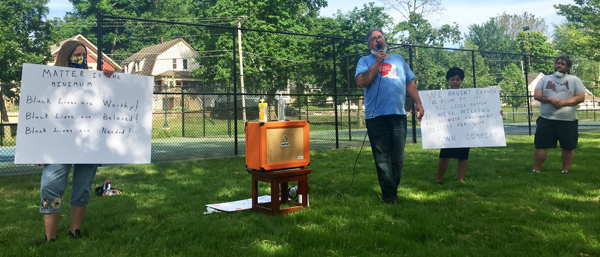 The third demonstration against the death of George Floyd was held Monday evening in Winona Lake Park and drew more than 100 people.
Maria Medina and Ofelia Rios, in partnership with OneWarsaw, hosted the two-hour event that was designed to hear stories from people of all races.
Medina, who was originally not planning on attending the event, emceed the demonstration with OneWarsaw Board President Travis McConnell and announced that she and Rios have "come up with a name for their movement: POC," which stands for People of Change, she said.
When announcing the group's new name, Medina rallied the crowd by saying how important it is to recognize that people who have lived in Kosciusko County for decades are just now deciding to publicly share their stories and experiences.
Medina and Rios organized the May 30 and June 3 protests in downtown Warsaw. The June 3 event was where people of color could speak and have their voices heard. Monday's event was promoted by the women, and OneWarsaw, as being a time for hearing stories from the "allies" of the movement against police brutality and injustice against people of color. And on Monday, several white people shared their thoughts.
One of those people was Jeanne Phipps.
"As a white woman living in a small, mostly white community, it can be easy to ignore the fact that racism exists. When you aren't regulary confronted with stories of discrimination or brutality against black people, it is easy to put it out of your mind and pat yourself on the back because you have some black friends, so obviously, you aren't racist. We put forth a diverse picture by putting people of color on brochures and in videos about our community, because obviously, racism doesn't exist here," Phipps said, continuing with stories of local people who have experienced racism. "We are horrified, we cry, we write Facebook posts, we wonder what else we can do, because we know that this is messed up and unacceptable. We attend a wonderful protest, we feel like things may finally be changing, and we all agree that black lives matter. Then, the very next day, we are confronted by the story of the female black election poll worker who was verbally insulted by a fellow white male poll worker."
Phipps encouraged people to get involved by voting and by telling people you're around who are making racist comments to stop and that it will not be tolerated.
It turns out, according to McConnell, who took the mic after Phipps was done, that Phipps was the person who reported the racist comment to the Election Board.
The crowd applauded her.
The crowd also heard from 25-year-old Zoie Lamar, a white woman who read the list of names and "rights" white people have that she says aren't afforded to people of color. For example, carrying a bag of Skittles, like Trayvon Martin was doing when he was shot and killed.
"White privilege is real, and the 'N' word is NOT your freedom of speech, OK?," Lamar said. "The last time I checked, America is supposed to be free. My Facebook has been getting smaller and smaller, but it is getting bigger with you guys. My feed is changing, and that's awesome."
Mike Beard, a white man, told the majority white crowd Monday that they can do their part by "taking your kids to talk to a person of a different color."
He also added that voting is one of the most important things people can do to affect change.
"Get comfortable being uncomfortable, because it's gonna be a long ride," he said.
Other stories were heard from black, biracial and Latino people. Those stories included personal testaments about traffic stops, arguments with family members, racism in the schools and the importance of having everyone come alongside them with the same anger and desire for change.
Sara McNeal Strahan-Lenfestey, a black woman who shared her story at last week's protest about growing up black in Warsaw,  shared Monday the history of Winona Lake and Grace Theological Seminary and how the seminary took a liberal stance during the Civil Rights movement and allowed her uncle, John McNeal, along with a Haitian man, to attend the college.
"Grace's approach from 1959 to 1963 was God's word is not discriminatory," she said. "This is my community. I know we can get along."