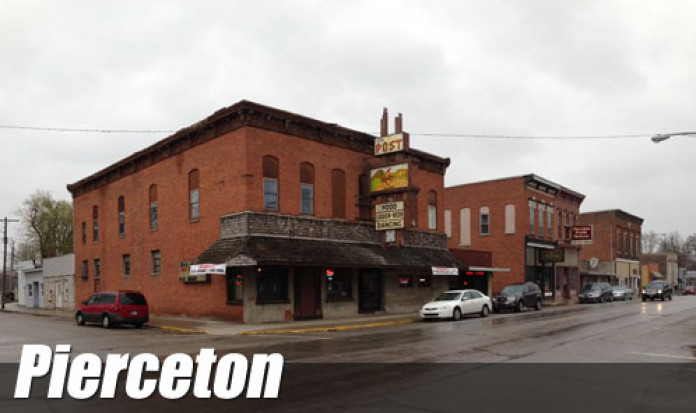 Utility Superintendent Casey Boggs presented several requests at the Pierceton Town Council meeting Monday.
Board President Tom Barker, Matt Brubaker and Mandy Espinoza approved the purchase of an electric sand spreader from WA Jones. The cost will be covered by insurance as the old sand spreader was involved in an accident last week.
Also approved were preventative repairs, up to $750, to town generators. Repairs to the mower brakes will be done in-house. Also approved was the purchase of a locator, which will find underground features like gas, sewer and water lines. Boggs said the cost should be about $4,000. Tools for the utility shop, a circular saw, table saw and compound miter saw also will be purchased for less than $1,200.
Boggs said costs to make two pickleball courts on one of the tennis courts would be less than $500. Barker said that item would come under the parks board. Boggs said the owner of Lost Treasures, 119 N. First St., wants to start offering fresh baked goods and ice cream. She wondered if a grease trap was a necessary part of the kitchen. Town attorney Tammy Keirn said discharge should be less than 100 parts per million into the drain and the discharge could be tested.
Town marshal Tim Sammons said the new street signs posting 20 miles per hour were in place. He said the police cadets will attend the March town council meeting. He said the police department's router was down for a few hours and during repairs, found out the police department's router was also on a line with the street department and should be separated.
Kosciusko Economic Development Corp. Executive Director Alan Tio attended the meeting and said KEDCo has seven new part-time team members and they're working on new missions with a new focus.
New Clerk-treasurer Myra Mast presented quotes for a new software system, saying she couldn't access the current system very well. She said town checks were handwritten until recently and she's just now able to log them. The current Boyce-Keystone software is about to expire, Mast said. The council approved purchase of a new $7,700 Keystone-Boyce software system. She also presented a financial report that Barker didn't want to approve.
"This is what Retha said you need to see," she said. Retha Hicks is a consultant for new town clerks and a former Winona Lake clerk. "It's a Lake City Bank statement," Barker said, "and the State Board of Accounts will accept this?" Mast said they would accept it because the SBOA just wants to see the work.
Barker wasn't sure about that, saying $1,600 is unaccounted for. "That's something to do with payroll," Mast said of the missing money. "There's nothing even on here to show that," Barker said. Former clerk Jerry Kreger said there was a ledger pad to upload but Mast cut him short, saying, "You didn't want to train me then, so don't try to train me now."
Kreger continued to say the accounts were balanced at the end of December and reminded Mast that she fired Carrie Ousley, who knew how to operate all the computer software and input the figures.
The board also approved an additional 30 hours consulting work with Retha Hicks.
Brubaker said this year's Pierceton Days theme is "Roaring '20s, Then and Now." The festival committee meets the first Tuesday of each month at 5:30 p.m. in the town hall community room.
Anne Espinoza asked that the next fire territory meeting be open to the public. She said she's been gathering data on the subject of fire territories. Barker said the next meeting hasn't been set. When it is set, it will be open to the public to listen but not contribute opinions, as the Whitko School Board holds its meetings.
Barker said he and Espinoza have contacted several insurance companies about whether or not insurance rates would go down with access to a fire territory. Both men heard that rates won't be affected because in-town residents have a water utility source that can be accessed by firefighters. The fire station will host a community breakfast 8 to 11 a.m. March 21 at the fire station.