Ninety-two participants jumped or ran into Center Lake's chilly waters a little after noon Saturday, raising $13,598 for Special Olympics in the process.
While Special Olympics has had Polar Plunges since 1999, Saturday was the second year the event was held in Warsaw.
Buzz Lail, Northwest Regional manager, Special Olympics Indiana, handed out several awards after the plunges.
Bone City Rollers had 16 members participating, earning them the award for the team with the largest number of plungers.
Bench coach Grant "Mil" Uhlig said the team had 11 participants in the 2015 Polar Plunge, but wanted to up their number every year. For the 2017 event, he said they wanted to have 20.
The team from DePuy-Synthes received two awards. As members raised $3,876, DePuy received the award for most money raised by a team. A team is considered 10 or more participants jumping in together.
The other award given to DePuy was the "Chillin' to the Bone" award. Lail said it was a special award exclusive to Warsaw, the Orthopedic Capital of the World. The award went to the team from an orthopedic company with the largest number of participants.
Emma Dobson, South Bend, from Behavior Analysis Center for Autism, earned the award for most money raised by an individual. She raised $1,212.
The best costume award, presented before the plunges took place, went to Alex Garcia, 13, Pierceton, who dressed as "Big Baby."
"I decided to go with this costume because I thought people would love it and it would be fun to jump in (the water) with it," Garcia said after receiving his chocolate award.
Of the final 92 participants, 77 registered online, according to Lail before the jumps took place. He also estimated the event had about 30 volunteers, with 15 from Kohl's. He also had volunteers from Special Olympics Kosciusko County, and he praised the Warsaw Police Department Dive Team for being on hand.
"You can't say too much about the WPD Dive Team. They were here cutting ice last night," he said.
DePuy's Alliance for Disability Leadership supported the event, and Lail said DePuy is a state-level sponsor.
Also represented at the event was Paragon Medical, BACA in Elkhart, a "big group" from Fulton County that has a family member who is a Special Olympics athlete and longtime Special Olympics volunteer Joe Baronowski, Lail said.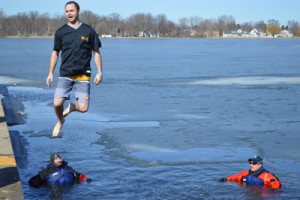 107.3 WRSW and Willie 103.5 radio stations broadcasted live from inside the Center Lake Pavilion, and News Now Warsaw News Director Phil Kuhn was brave enough to take the plunge, too.
Representing the City of Warsaw was city engineer James Emans. Mayor Joe Thallemer participated in 2015, and said he will jump in again for the 2017 event.
"The mayor asked for a volunteer (for this year) and I said sure," Emans said. "This is a bucket list item."
His brightly colored costume was a construction worker.
"As the city engineer, I felt like I needed to be seen," Emans joked. "Actually, so the divers can find me more easily if I pass out."
Emans said he was impressed with how many "crazy" people there are in Warsaw supporting the cause.
"It absolutely is (a good cause), and I'm honored to be able to represent the city for the cause," Emans said.
Once he was out of the water and dried off, he said, "It was refreshing. It was as cold as I thought it would be. It literally takes your breath away."
The air temperature was in the high 50s, but according to Lutheran EMS Kosciusko, the water temperature was about 40 degrees. The ice on the lake was 3 to 4 inches thick but porous, according to Joe Hawn, WPD Dive Team.
Uhlig said, "It was cold. Not as cold as last year, but definitely cold."
Shawn Schneider, North Manchester, jumped with the "Marvelous Marvels" team as Batman. He had never plunged before Saturday.
"My friends' family asked me to do it. They're involved in Special Olympics," Schneider said.
Tyler Lemon, Warsaw, was jumping with the group of 14 from Instru-Med. They all wore company-sponsored speedos, but he also was wearing an old Spider-Man costume.
"I just had an old costume laying around," he said. "It's kind of tight right now, but it still works."
After the plunge, Drew Dahlstrom, North Manchester, with Instru-Med, said the water was "cold." Wearing just the speedo, he said it was coldest in the water.
Kathy Boggs was one of 15 in the DePuy group and this was her second year. She was dressed as The Cat in the Hat from the Dr. Seuss book.
"I'm just a Seuss fan," she said.
She said Special Olympics does good things for the local athletes.
After jumping in Center Lake, she said, "It was cold. It was a little cold. The second time it felt a little colder."
Before the plunge, Lail recognized Becky Walls, county coordinator for Kosciusko's Special Olympics since 1990. Her mom started Special Olympics in the county in 1973, he said.
"This county was a pioneer in the movement thanks to Becky's mom, and she continues to carry the torch today," he said, noting that Walls also was taking the plunge.
There also was a silent auction of items varying from event towels and coolers to Wagon Wheel Center for the Arts tickets.