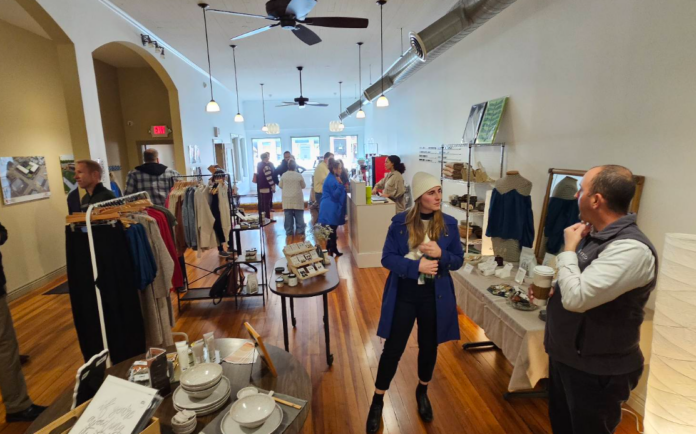 By Dan Spalding
News Now Warsaw
WARSAW – KEDCo continues to expand its presence in Warsaw and that was even more evident Monday with the opening of a new pop-up shop.
The economic development group for Kosciusko County has expanded significantly in its past five years to include a staff of five full- and seven part-time staff and now has a multi-faceted presence in the three-floor building at 207 S. Buffalo St. where the organization moved a few months ago. 
While KEDCo is firmly rooted in economic development, it's relying on connectiveness and networking to make much of that happen. CEO Alan Tio said once the property was available, the plan to collaborate was intentional.
KEDCo's office can be found on the third floor and additional co-working space was set aside on the second floor. 
On Monday, KEDCo and the Kosciusko Chamber of Commerce celebrated the opening of a market — a 3,000 square feet area on the first floor known as The Market at the KEDCO Downtown Business Studio.
The market is being managed by Laura Sanders and Melanie Woodruff, and opened last week.
The first vendors to occupy that space include Creighton's Crazy Egg Cafe and Coffee Bar, which is selling a selection of coffees, plus a handful of other vendors that blend seamlessly and offer a variety of pottery, art and other knick-knacks.
The market is being cast as a place for community, a space for collaboration and a outlet for small ventures.
"For us, it helps to get more downtown retail, it helps us to work with people who are starting or growing retail operations — and when they're successful we'll help them find their own locations in downtown Warsaw or other downtowns in the county," said Tio.
According to information provided by The Market at the KEDCO Downtown Business Studio, the new downtown space is a way for newly established business owners who aren't ready to invest in a storefront to experience the presence of the downtown. 
Rent space for all vendors is $100 per month. Vendors can receive four months of space per contract period, with a chance for renewal. The process involves an application process.
Hours for the market are 8 a.m. to 5 p.m.
The Kosciusko Chamber of Commerce used a pop-up space years ago before Elysian Co. – a women's boutique – took root, but Chamber President and CEO Rob Parker said KEDCo's new effort is different.
"That's totally different," Parker said. "I don't think we've done anything with a share spaced with a formulized model at all."
In recent moths, the downtown has seen a new coffee shop, Maggie's Coffee & Treats, open on East Center Street, and another, the Courthouse Coffee, recently reopened after extensive renovations and shifting under a combined ownership and a new name, Courthouse B&B Market, on North Buffalo Street.
Parker said he doesn't think KEDCo's pop-up coffee shop presents a problem in terms of competition.
I really don't see it as competition, truly," Parker said. "There's enough business to go around."