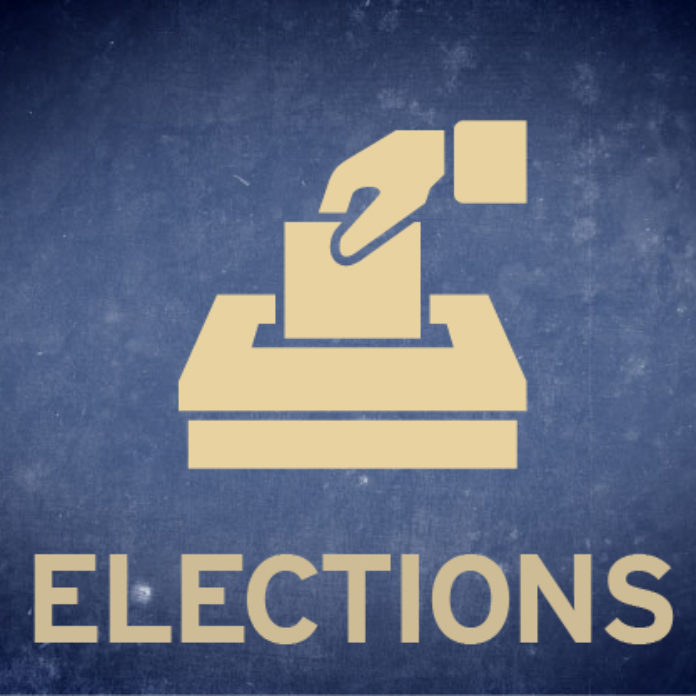 Filing for the primary election ended at noon Friday, and there will be several Republican races in the May primary at the county level.
No Democrat has filed for any county position.
The race for Kosciusko County Superior Court III has four Republican candidates. According to the Kosciusko County Circuit Court's office, those include (alphabetically) Robert Bishop, Karin McGrath and Chad Miner, while the Indiana Secretary of State's office also has Lindsey Grossnickle listed as a fourth candidate. The incumbent for Superior III is Joe Sutton who is not seeking re-election after first filing for Superior II and then backing out of that race.
The other three incumbent Superior judges have filed for re-election and are unopposed for the primary. They include David Cates, Superior Court I; Torrey Bauer, Superior Court II; and Christopher D. Kehler, Superior Court IV.
Longtime County Commissioner Brad Jackson for the northern district faces opposition in Marcia Baumgartner.
Four women are running for the three county council at-large seats. The three incumbents – Sue Ann Mitchell, Joni Truex and Kimberly Cates – have a challenger in Kathleen Groninger, of Mentone.
Also uncontested for the Republican primary are Ann Torpy, Circuit Court clerk; Rhonda Helser, county treasurer; Anthony W. Ciriello, county coroner; Michael Kissinger, county surveyor; and Cary Groninger, middle district county commissioner.
State Races
For the Democrats, Brandon Cavanaugh is seeking to be the next state senator for District 9, currently occupied by Republican Ryan Mishler, who is seeking re-election.
Laura Fred-Smith is vying for the District 18 state senate seat, as a Democrat, while incumbent Stacey A. Donato, a Republican, has filed to try to keep her position.
Chad Harris is the sole Democrat seeking the District 18 state representative seat. He will face off in November against whoever wins the Republican primary – Russell Reahard or Craig Snow. Incumbent Dave Wolkins is retiring at year's end.
Republican and incumbent Blake Doriot is unopposed for state senator of District 12, according to the Indiana Secretary of State website Friday.
For District 22, it's incumbent Curt Nisly versus challenger Bill Dixon in the Republican primary. The winner faces Democrat Kelly Thompson in November.
U.S. Races
The Indiana Secretary of State's website has two Democrats listed as running for U.S. representative for the 2nd District and four for the 3rd District.
The 2nd district candidates are Pat Hackett and Ellen Marks, while the 3rd district candidates are Chip Coldiron, Jean-Paul Kalonji, Carlos Marcano Jr. and Thomas Schrader.
Republican Jackie Walorski is the incumbent for the 2nd District, but she faces some competition in the primary with Christopher Davis running against her.
Likewise, Jim Banks is the incumbent for the 3rd District, but he'll face off against Christopher Magiera in the primary.
For U.S. president, Hoosier Democrats have nine choices while Republicans have two.
On May's Democrat ballot will be Joseph Biden, Michael Bloomberg, Pete Buttigieg, Tulsi Gabbard, Amy Klobuchar, Bernie Sanders, Tom Steyer, Elizabeth Warren and Andrew Yang.
Republicans will have a choice between current sitting U.S. President Donald Trump or Bill Weld.
Precinct Committeemen & State Convention Delegates
Republican precinct committeemen who have filed for Kosciusko County include Steven Sechrist, Etna; Ann Wiesehan, Franklin 2; C. Aaron Rovenstine, Harrison 1; Robin E. Adams, Harrison 3; Bryan Sherwin, Jackson 1; Merle Holden, Jefferson 2; James Pecsi, Jefferson 2; Teresa Martin, Lake 2; Rosemary Trump, Monroe; Michael D. Wilson, Plain 1; Thomas D. Moore, Plain 2; Tyler Huffer, Plain 4; Lynne Christiansen, Plain 5; Gary Eppenbaugh, Plain 7; Marsha McSherry, Seward 1; Marlene Weller, Seward 2; Dan Thystrup, Tippecanoe 1; Mark Grady, Tippecanoe 2; Sue Ann Mitchell, Tippecanoe 3; Kimberly Cates, Turkey Creek 2; Karen Grady, Turkey Creek 5; Randall Girod, Turkey Creek 6; Stephen Tucker, Van Buren 1; Bruce Lamb, Van Buren 3; Frank Rhoades, Washington 1; Thomas Pletcher, Washington 2; Gloria Miner, Washington 3; Lynn Howie, Wayne 1; Alan Tio, Wayne 1; Kathleen Keirn, Wayne 2; Janice Workman Wayne 3; Mark Nunez, Wayne 4; Jim Zachary, Wayne 4; Mike Ragan, Wayne 5; Gordon Nash, Wayne 7; Dan Hampton, Wayne 8; Rhonda Helser, Wayne 9; Terry Wood, Wayne 9; Beverly Brown, Ward 1 Pct. 1; Cray Nayrocker, Ward 1 Pct. 2; Joseph Thallemer, Ward 2 Pct. 1; Ron Shoemaker, Ward 2 Pct. 2; Mike Klondaris, Ward 3 Pct. 2; Cindy Dobbins, Ward 4 Pct. 1; Jerry Frush, Ward 4 Pct. 2; Ann Seward, Ward 5 Pct. 1; James Jarrette, Ward 5 Pct. 2.
The list for Republican State Convention Delegate District 1 includes C. Austin Rovenstine, Kimberly Cates, Teresa Martin, Rebecca Kubacki, Curt Nisly, Mary Nisly, Randall Girod, Drew Heinold, Rhonda Miller and Linda Kitch.
For District 2, the list includes Sue Ann Mitchell, Keeton Bartol, Dan Hampton, Christanne Hampton, J. Brad Voelz, Tyler Huffer, Rhonda Helser, Troy Helser, Jim Jarrette, Brian Boyer, Monica Boyer, Gary Eppenbaugh, Linda Overstreet, Reginald Overstreet, Tyler Haines, David Bonewitz, Anne Bonewitz, Alan Tio, Terry Wood, Steve Foster, J.D. Ayres, Paulette Davis.
The Democrat State Convention Delegate District 1 list includes Victoria Carvey Morton, Bill Morton and Jama Brown; while the District 2 list includes Adam Hyde, Levi Franke, Landon Shelburne, Krystal Shelburne, Lauran Sattler, James Townsend, Kelly Thompson, Dee Moore, Stanley Moore, Brandon Cavanaugh, Sara McNeal Strahan Lenfestey and Anna Coello.