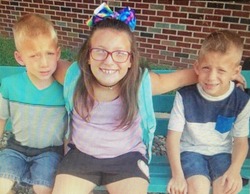 Public services have been announced for the twin 6-year-old boys who were killed when boarding a Tippecanoe Valley school bus last week.
Friends are welcome to visit with the family of twins Xzavier and Mason Ingle Friday, Nov. 9 from 4 p.m. until 8 p.m. at the Good Family Funeral Home at 1200 W. 18th Street in Rochester.
The family will hold a private ceremony at a later date.
You can read the full obituary for the twins, here.
A fundraiser will be held to help the families affected by the tragic bus stop crash in Fulton County. The Valley Strong Family Fundraiser is Saturday November 10 from 5-8 p.m.
A pulled pork dinner will be served for free will donations. 100% of proceeds will go to the families.
Those who want to donate but cannot attend the fundraiser can also do so at any Lake City Bank branch. The Mentone Fire Department has an account to benefit the families, it's call the Valley Strong Family Fund.