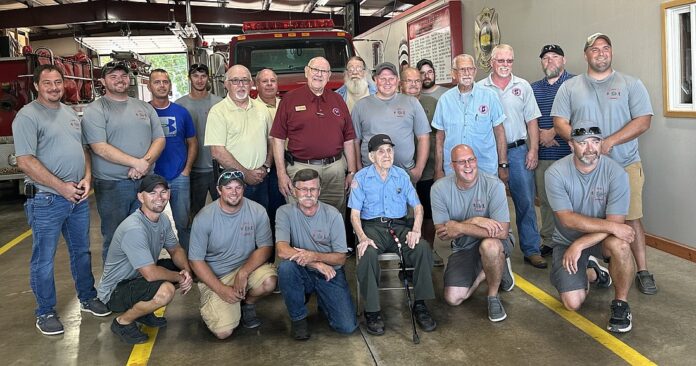 AKRON – Ray Doering turned 101 on Aug. 8 and was honored Monday evening for his 74 years of contribution to the Henry Township Fire Department.
Indiana Volunteer Firefighters Association District 5 Chairman John Grolich presented Ray with a glass plaque from the IVFA for serving as a firefighter from 1949 to 2023.
"It's certainly an honor to recognize you for 75 years in the fire service," Grolich said. "We appreciate your contribution."
"I'll try and be ready for the next 75," Ray responded quickly.
He had been surprised with the recognition and said as much, surrounded by family members, all the fire department, several media and representatives of the IVFA.
Ray also was presented with a 50-year coin. He had been presented with a 50-year card by Don Kessinger 24 years ago. Sam Bisel, also from the IVFA, presented Ray with a coin.
"There's not many of those around, so you're a pretty lucky guy. And you're a lucky guy because you've got a wonderful family and a wonderful fire service family," Grolich told Ray.
Jerry Liston, IVFA president, presented Ray with the IVFA Challenge Coin.
"It's an honor to be here, I'll just say that," Liston said as he presented the coin.
One by one the men of the fire department thanked Doering and shook his hand, telling him they appreciated him.
After some photos were taken, Liston said on Aug. 15, 1945, seven departments came together in the northwest corner of Indiana and formed the IVFA. "So when you stop and think that we're into our 78th year and we have an individual that's been here 75, I think that's remarkable," he said.
Several stories of Ray were shared. His youngest child, Patty Woodward, recalled, "I was an adult before I realized what he was doing because he never made me scared or anything. But when we would stay in a motel or hotel, he'd say, 'Let's talk a walk, find out where we are.' So we would walk and he would point out all the exits, and the stairs, and we would look out the window and he would say, 'Do you see where we are? Can you see our car?' And I learned to orient. I knew where the exits were, I knew where the fire extinguishers were. And never once did he make me scared, but I was prepared."
Asked to comment about his time in the service, Ray said, "One thing I remember my father said when I was growing up – if you do anything, do it right."
He also said, "One thing, I was surprised. Actually, I thought of not even going tonight. But I finished my shepherd tonight while I was dressing."
Joe Day, who has been with the fire department for 43 years, said he's known Ray for 60 years and went to school with Ray's son, Arnold Doering. Day said he joined the force in 1980 and Ray had already been a part for a long time by then.
"You had to get out of his way. He was a go-getter. All the time, All the time. One hundred miles an hour," Day recalled, adding that he learned a lot from Ray. "He, without any formal training at all, could figure out pumps, just by knowing what was inside of them. He was valedictorian of his class. Very, very, very smart. You could ask him a trig problem right now and he'd show you how to do the whole problem."
Day said if Ray saw something that needed to be done, he just went at it and got it done.
"He had high hopes, I can tell you that. I can remember a barn we were at and – one that gets hot enough you can see through it – it was a hip barn and it was open front and back. Either the doors were gone or open. And he went in. … We had a dump tank but we didn't have enough water. Mutual aid hadn't arrived and so we just had inch and a halves off covering exposures. And he took one of those inch and a halves and marched into the barn. He was probably in there 15-20 feet, and we couldn't get him out, so we just grabbed the hose and pulled and backed him out. It pissed him off. He was a go-getter," Day recalled.
Arnold said when his dad was firefighting, he had a television and appliance shop in Akron for many years, starting in 1949.
Day said Ray made and sold radios, starting as early as when he was a teenager.
Arnold, Patty and sister Connie Anderson agreed that their dad was born in the Wakarusa/Nappanee area but lived in Akron since he was 8. Arnold said Ray's dad lived to be 96. Ray's wife, M. Lucile Doering, died Dec. 27, 2021, at the age of 96. Arnold said both his grandmothers lived to be over 90. Ray's brother, Russell, passed this past year at about 97 years old.
"Hard-headed, stubborn," Arnold said in describing his father. "His mind is still pretty good. There's no senility or anything. He gets around pretty good, almost better than I do."
Anderson said her dad never lived more than 3 miles away from Ind. 19, whether that was in Wakarusa or out of town or in town in Akron.
Woodward said clear up to his 70s, her father would still come up to the station, make coffee and man the phones. He still comes to the station downtown Akron, encourages the guys and says the prayer at the meeting, she said.
"What he told me is, he and Mom got married in 1949. They lived in the apartment above the store. They had the appliance store. And he would always respond to all the fire calls," Woodward said. Since Ray was always there helping, the men on the fire department told him that he might as well join, so he did. "That's how he started in the service."
When she became an EMT, she said that was really cool because when the firefighters became required to become first responder certified, she and Ray had things to share. "He didn't really understand the EMS part of it. So when we were talking about CPR training and different first aid, it was neat because it was like he had entered my world and we were like equals for once."
Woodward said her dad prides himself on being independent.
Anderson said Ray's stubbornness was probably why he lived to be so old.
"When you're stubborn, you just hang in there," she said. "When he finds something, he sticks with it, obviously. He's been with the fire department for almost 75 years."