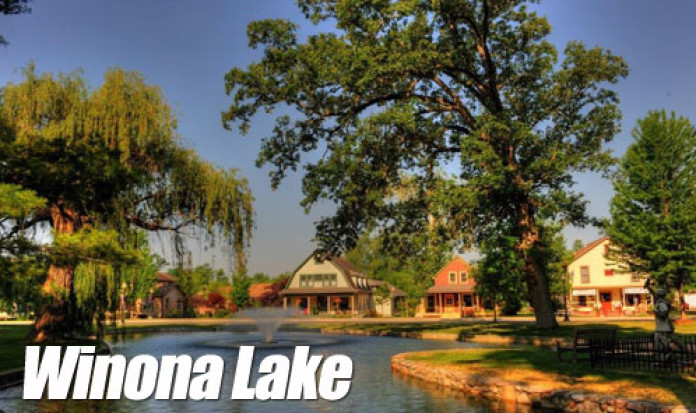 The Watershed Foundation's reconstruction of 500 feet of Winona Lake's Limitless Park shoreline is underway, following months of an intensive public education campaign.
"This project has taken years of planning," said Lyn Crighton, TWF executive director. "To see it come into fruition is overwhelmingly exciting for us, as well as our many partners and generous funders!"
Two main health and safety issues affecting the park will be remedied with the implementation of this project.
"The old crumbling seawall was a safety hazard for park visitors," said Crighton. "And as the remaining shoreline eroded it diminished water quality by adding sediments and algae-inducing nutrients to the lake, especially with large boat wakes. In addition, the landscape of primarily turf grass had attracted an overpopulation of exotic invasive Canada geese and their numerous droppings."
According to the U.S. Centers for Disease Control, exposure to goose droppings can cause diarrhea, urinary tract infections or respiratory illness. Goose droppings can also contain salmonella and other germs that cause gastrointestinal issues. Large numbers of geese leave large quantities of feces. A single goose can defecate every 20 minutes and can produce up to 1.5 to 2 pounds of feces each day.
The best way to combat both geese and the erosion occurring along the shoreline is by installing a healthy shoreline with a mix of glacial stones and native plants along the 500 linear feet of shoreline from the edge of the public swimming beach to Cherry Creek.
"We are incorporating a plant buffer along the shoreline and landscaping throughout the park that is a deterrent to Canada geese, but still attractive to park visitors," Crighton said. "Taller vegetation at the shoreline discourages the geese because it creates limited visibility against predators, while the steeper slope into the water makes it more difficult for the geese to navigate."
Engineering models estimate that this project will stop the erosion and resuspension of 31.5 tons of sediment and 26.8 pounds of phosphorus from polluting Winona Lake. These steps will reduce the growth of weeds and algae by 268,000 pounds per year.
In combination with this construction project, The Watershed Foundation and Winona Parks Department are educating visitors about not feeding the waterfowl.
Four "Thank you for Not Feeding Us" signs featuring a mallard will be installed in the park to discourage this behavior. Feeding waterfowl (such as ducks, geese, swans) not only attracts them in higher numbers, but increases their feces, encourages aggressive behavior and makes them sick. 
"We believe that this three-prong approach, of educating youth and adults, reminding park visitors with signage and engineering better shorelines, will make a big improvement in the park," said Crighton. "All of this was only possible because of our amazing partners; The IDNR Lake and River Enhancement, K21 Heath Foundation, Kosciusko County Community Foundation, Kosciusko County Convention, Recreation & Visitors Commission, Arrowhead Country RC&D, Kosciusko Leadership Academy, Lilly Center for Lakes & Streams, NIPSCO, Town of Winona Lake/Parks Department, the U.S. Fish & Wildlife Service, S & L Environmental and the Winona Lake Preservation Association."