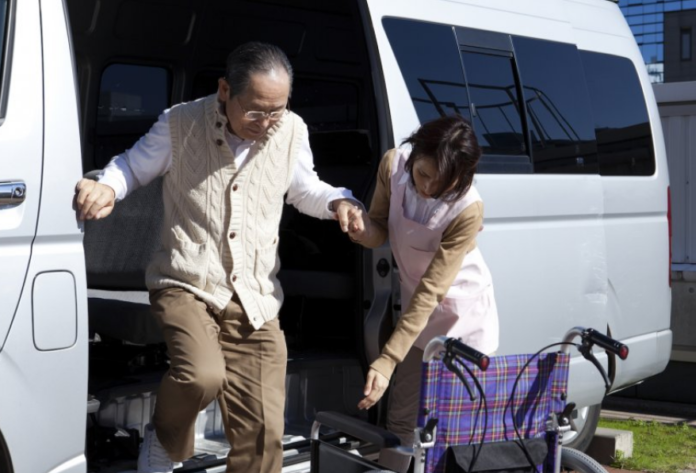 By Whitney Downard
Indiana Capital Chronicle
INDIANAPOLIS — An estimated 790,000 Hoosiers provide more than 740 million hours of care to their elders as family caregivers, a service that the American Association of Retired Persons (AARP) values at more than $10.8 billion.
Most Americans are unprepared for long-term care as they age, relying heavily upon family caregivers to provide the support and assistance they need. The $10.8 billion value is just a fraction of the $600 billion nationwide that family caregivers give, nearly all of it unpaid.
"The long-term care system in Indiana is not where it needs to be and so I think there are a lot of family caregivers out there doing this work because they either don't know that resources are available or the resources are just too limited," Sarah Waddle, the AARP state director, said. "The state of Indiana should be very thankful for these unpaid family caregivers because without them they would have quite an issue to solve in their state budget."
What is family caregiving?
Over half of the adults over the age of 65 have difficulty with daily living activities, defined as bathing, getting in or out of a chair, eating, getting dressed or using the bathroom. Most all, 95%, need help with these activities, with two-thirds relying solely on family members, according to a 2023 report from AARP.
AARP suggestions to policymakers for family caregivers:
Federal/ state tax credit
Improved Social Security benefits
Publicly funded home- and community-based services
Strengthen family and medical leave
Make family and medical leave paid
Incentivize workplace flexibility
Prohibit discrimination against working family caregivers
Many of those family members, largely unpaid, are also responsible for more complex medical care, such as giving injections or managing medical equipment. Other duties include negotiating insurance coverage, navigating government programs (if there are any) and coordinating care.
The majority of these caregivers, 60%, also balance work outside of the home. Many, especially those in the "sandwich" generation, care for their parents and their children at the same time.
"The COVID-19 pandemic laid bare the realities of the caregiving experience… It heightened awareness of the need for comprehensive solutions in policy and practice to build supports targeting the family caregiver," the report said.
"Family caregivers and their care recipients lost access to paid care supports due to program closures and staff shortages, experienced isolation and loneliness… and struggled with economic losses in income, housing and food security."
So what's the problem?
An estimated 70% of Americans don't plan or save for their long-term care. Later in life, many live on a fixed income and can't afford specialized services – meaning their family members have to fill the gap.
"Long-term care is not something we think about until the time has come and it's usually – unfortunately – an emergency that throws us into a caregiving situation and we may not have a plan in place," Waddle said.
She said that was because Indiana's long-term care system hasn't traditionally focused on that but also there's a nationwide workforce shortage in the field, which is typically low paid.
Waddle has hopes that a plan to transition to managed care for long-term services would help – especially for the "silver tsunami" in 2034, when those aged 65 and older will outnumber the number of Americans under 18. In Indiana, that wave – when the long-term care system will start seeing an even higher demand – is expected to come in 2030.
"Otherwise, the long-term care system is not going to be able to support it; the state of Indiana's budget is not going to be able to support it."
That's because, as their private funds run out, many turn to Medicaid and Medicare for support – even though a state shortage or home health aides hinders that care, forcing money to turn to nursing homes instead. Medicaid is the state's fastest-growing expenditure.
"We need to take care of (family caregivers) because we need them," she said.
But this type of care is draining – physically, emotionally and financially. The AARP report notes that family caregivers report worse health outcomes and higher rates of worry, isolation or helplessness.
"Studies consistently show significantly worse outcomes for family caregivers who care for people with high-care needs – such as individuals living with dementia, physical frailty or multiple chronic conditions," the report said.
How does Indiana help family caregivers now?
But Waddle described Indiana's current supports for family caregivers as "minimal" and "not meeting the need. The national arm of the AARP regularly releases a report card ranking states on their long-term care and services. In the most recent report, from 2020, Indiana was 44 overall and 51 – the worst in the nation – for family caregiver support.
But Waddle sees small improvements. Recently, the state received approval for expedited eligibility which aims for home-based services to start within 10 days of approval, meaning less Hoosiers will need prohibitively expensive care in an assisted living facility.
"There are things that are moving," she said. "But I know legislators are paying attention to this because it's a big shift for Indiana. And it's long-term care reform – which we have needed for a very long time."
But the state hasn't yet pursued two popular programs in other states: giving family caregivers financial relief through tax credits or encouraging paid family leave.
"We don't have a robust paid family leave program in the state of Indiana," Waddle said. "I think that can really benefit a lot of folks if they didn't have as many worries about balancing work and caring for their loved one."
During the pandemic, one state even sent its family caregivers a check, recognizing the importance of their work.
"There are a lot of things… that support family caregivers that Indiana has never had before – like doing a caregiver assessment at the onset of somebody entering the program to make sure that the caregiver is also being taken care of," Waddle said. "I'm really happy to see the state of Indiana (beginning to realize) the importance of these family caregivers."
The Indiana Capital Chronicle is an independent, nonprofit news organization dedicated to giving Hoosiers a comprehensive look inside state government, policy and elections. The site combines daily coverage with in-depth scrutiny, political awareness and insightful commentary.
You can read the original version of the story here.