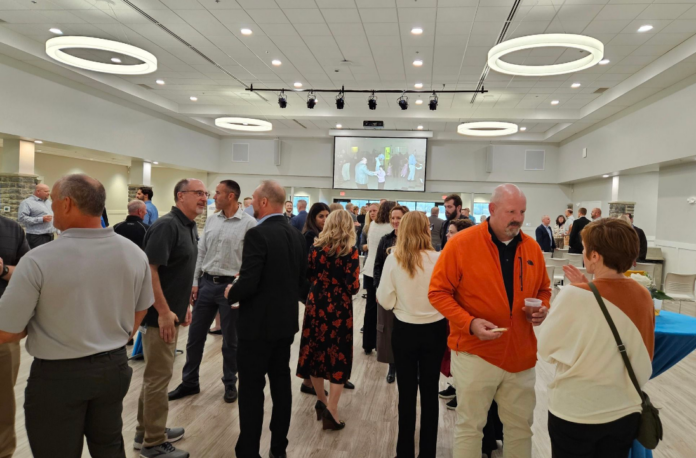 By Dan Spalding
News Now Warsaw
WARSAW — After months and months of extensive renovations that took it down to the bone, the community and its biggest employer celebrated the reopening of the renamed Zimmer Biomet Center Lake Pavilion on Wednesday.
The city parks department's biggest event center — on the shores of Center Lake — saw a massive makeover thanks to a $2.5 million donation from the orthopedic giant whose corporate headquarters sit in the distance across from Central Park.
Improvements include the relocation of the restrooms and the kitchen, a new roof, a new ceiling, improved lighting, a new sound system and a other modifications that opened up a view of the lake.
Wednesday's open house included numerous representatives from Zimmer Biomet including Ivan Tornos, the new CEO who stressed in his speech the company's commitment to the community, saying he "loves" the city and and that the orthopedic leader has no reason to ever leave.
Warsaw Mayor Joe Thallemer called the donation a "critical reflection of Zimmer Biomet's commitment to the community."
"They've driven the growth in our community. They've created jobs. They built themselves into a global industry. We couldn't be luckier as a community and their engagement now in our community has just hit a new high with the opening of this facility," Thallemer said.
Thallemer was among many at the open house who were stunned at how nice the facility is.
"I can't even describe how beautiful this facility is. People have to come down to see this. We want this community go enjoy this facility," Thallemer said. "That's what it's for. It's for our community. It's for everybody in the community."
For Parks superintendent Larry Plummer, the reopening of the pavilion marked a personal and professional highlight.
"I've had long history with that building," Plummer said.
"I had my wedding reception there. My daughter was married there. I've seen it go through two or three remodels and a fire. To see the way it is now, it's very rewarding as a superintendent to see your facility upgraded to this condition."
Plummer said based on conversations, he anticipates the pavilion will once again become the city's hallmark event center.
The parks office, he said, will begin taking reservations for the pavilion beginning on Thursday.