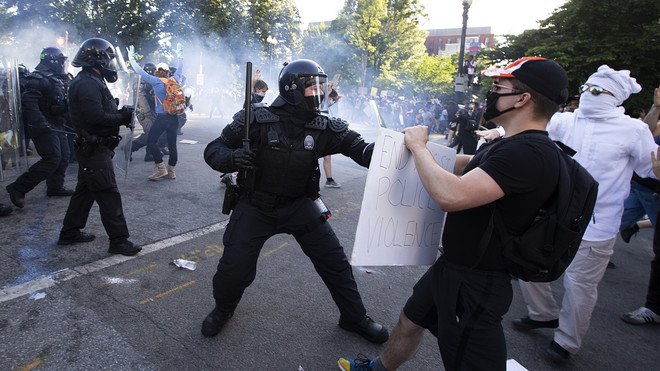 STATE HOUSE–If you are a part of an illegal assembly and a crime is committed, you could face misdemeanor charges, under a bill being considered by the state Senate. The American Civil Liberies Union of Indiana and the arion County prosecutor's office call the new bill unconstitutional.
"If you look at the rioting bill, it's unconstitutional on its face," said Marion County Prosecutor Ryan Mears, in an interview with IndyPolitics.org. "People have an absolute right to protest. People who are non-violent protesters, who don't damage other people's property, who don't hurt someone else- the Constitution protects their right to assemble and to express themselves.
The bill's author, Sen. Mike Young, a Republican who represents Indianapolis, said the intent of the bill is to keep protests peaceful and businesses safe. The language in the bill is clear that it targets people who are at an illegal assembly or riot.
But, Mears and the ACLU believe the intent is to intimidate people from participating in a protest.
"Indiana legislators are launching a full-on attack on Hoosiers' right to protest in what is clearly a backlash against the Black Lives Matter protests that occurred across the state of Indiana last summer," said Katie Blair, ACLU of Indiana public policy and advocacy director.
"SB 198 is unconstitutional and would chill Hoosiers' free speech  by enhancing criminal penalties and discouraging release on bail for charges during what the law defines broadly as an 'unlawful assembly.' SB 198 is not an 'anti-riot' bill; SB 198 is an anti-First Amendment bill."
The bill was rewritten before it passed out of a Senate committee. It originally made it a crime if anyone was at a riot and didn't immediately leave or tell police.
The bill now goes before the full Senate and must pass the Senate and House before it can become law.