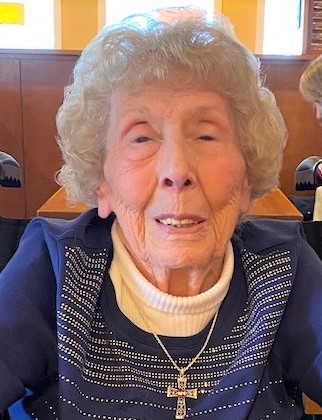 Rita Schwartz, 95, of Warsaw died peacefully in her sleep at her residence on Thursday, Oct. 28.  She was born in Braddock, PA  in 1926.  She lived many years in Ohio, where she retired from Whirlpool as an engineering coordinator.  She moved to Warsaw in 2010 with her husband Tony (now deceased).
She is the oldest of five children, Paul Full  (OH), Richie Full (SC), Larry Full (deceased) and Pauline Hughes (deceased).
Rita loved life and loved to dance.  She and Tony belonged to a line-dancing group when in Ohio.  They performed at nursing homes and other functions. They went on an African safari when in their 80's and traveled to Egypt and Europe and many other countries as well as the Galapagos Islands.
She is survived by a son, Mark Tenner (Sheila) of Warsaw.  She has two grandchildren, David Watkins (Carly) of CA and Jenny Perkins (Steve) of Warsaw.  She has seven great grandchildren and one great-great grandchild.
A visitation is planned from 5:00 to 7:00 p.m. on Thursday November 4, 2021 at McHatton-Sadler Funeral Chapel, Warsaw with a memorial service at 7:00 p.m. Pastor Steve Rahn will officiate the service.  A Mass of Christian Burial will be held on Friday November 5, 2021, at 11:00 AM at Sacred Heart Catholic Church with Father Jonathan Norton celebrating. Interment will be at a later date.
Masks are optional, and social distancing is encouraged.
Memorial donations may be made to:
Sacred Heart Catholic School Scholarship Fund
135 N. Harrison St.
Warsaw, IN 46580
To Sign the Guestbook or Send a Condolence go to www.mchattonsadlerfuneralchapels.com