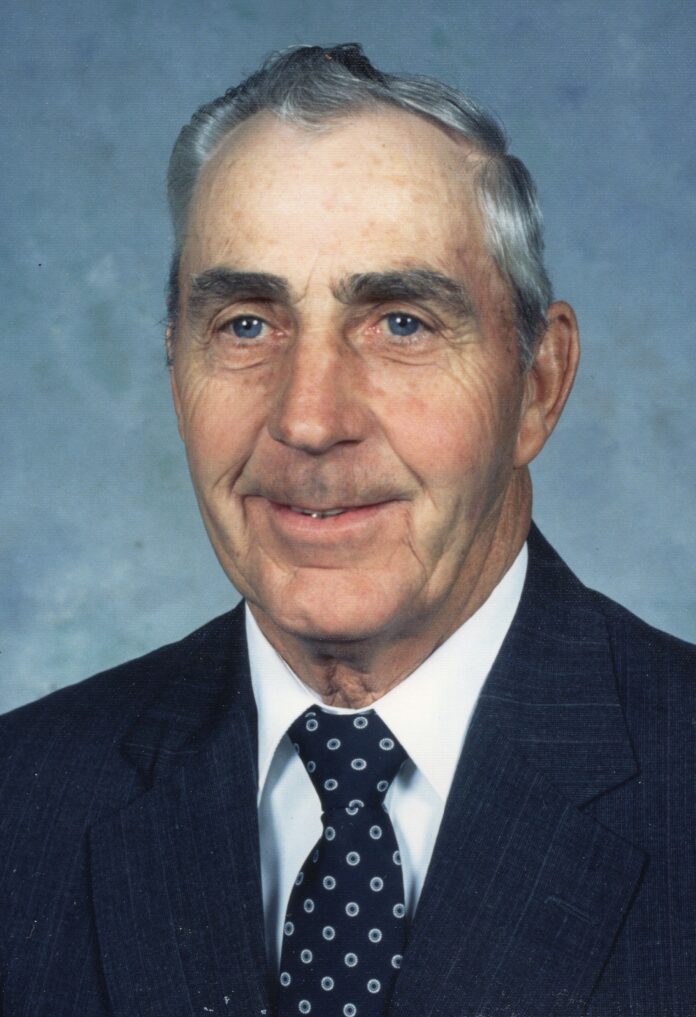 Robert L. Hawley of Warsaw, Indiana passed away at his residence at 1:39 a.m. on Friday, January 14, 2022 at the age of 93.
He was born on January 3, 1929 in Nappanee, Indiana.  Robert was one of 12 children born to Maude (Hepler) and Arthur M. Hawley and he loved being part of a large family.  He was a lifetime resident of Kosciusko County, Indiana and was a 1947 graduate of Etna Green High School in Etna Green, Indiana.  Robert proudly served in the U.S. Army and was inducted on February 1, 1951, and he was honorably discharged on January 18, 1957.   A few years ago, WRSW the local radio station, had made a 78 record recording of an interview with him about being in the Army during the Korean War.  After serving in the Army, he became a milkman for Litchfield Creamery in Warsaw and that is where he met his future wife.  He was a long-time member of the American Legion Post #49 in Warsaw and enjoyed the company of his fellow servicemen.
On June 13, 1953, in Warsaw he married the love of his life, Geraldine "Gerry" Lucille Holloway.  They raised their four sons, celebrated becoming grandparents, great-grandparents, and just simply sharing their lives together in everything they did in their 64 years of marriage they were blessed with before she passed away on February 3, 2018.
Robert worked as an equipment operator for R.E.M.C. for over 29 years.  He was always reliable and could be counted on for anything, he retired at the age of 62 in 1991.  In his heart he was a farmer and loved being outside working his land.  He grew grain, raised livestock and was just simply a hard-working man who always found something that needed done.  Robert loved to tinker around the farm, especially tearing stuff apart whenever he was fixing something and "making it better".  One of his favorite pastimes was riding his 1964 Allstate Scooter.  Most of all Robert just loved his family and spending time with them, he will forever be remembered as a loving husband, father, and grandfather and will be dearly missed.
He will be lovingly remembered by his three sons:  Dave (Teresa) Hawley (Sanford, North Carolina); Tim (Debra) Hawley (Warsaw, Indiana); Jeff (Lisa) Hawley (Claypool, Indiana); ten grandchildren:  Jason Hawley, Amy Goodwin, Meredith Cowan, Morgan Roberts, Jenell Lehman, Stephanie Hawley, Carrie Clevenger, Maryssa Hawley, Kevin Hawley, and Jared Hawley; fifteen great-grandchildren and three great-great-grandchildren.  He was preceded in death by his parents, wife, Gerry Hawley, son, Michael S. Hawley in 2008, five brothers, and six sisters.
Visitation will be held from 4:00 – 7:00 p.m. on Monday, January 17, 2022 and an hour prior to the service on Tuesday from 9:00 – 10:00 a.m. at Redpath-Fruth Funeral Home, 225 Argonne Road, Warsaw, Indiana.  Robert's life will be celebrated with a funeral service at 10:00 a.m. on Tuesday, January 18, 2022.  Burial will follow with a graveside service at Oakwood Cemetery of Warsaw with military rites conducted by the American Legion Post #49, V.F.W. #1126, and active-duty members of the Army Honor Guard.
Memorial donations may be directed to the American Legion Post 49, 301 N. Buffalo Street, Warsaw, Indiana  46580 and would be appreciated by the family.
Online condolences may be sent through the funeral home's website at www.redpathfruthfuneralhome.com.