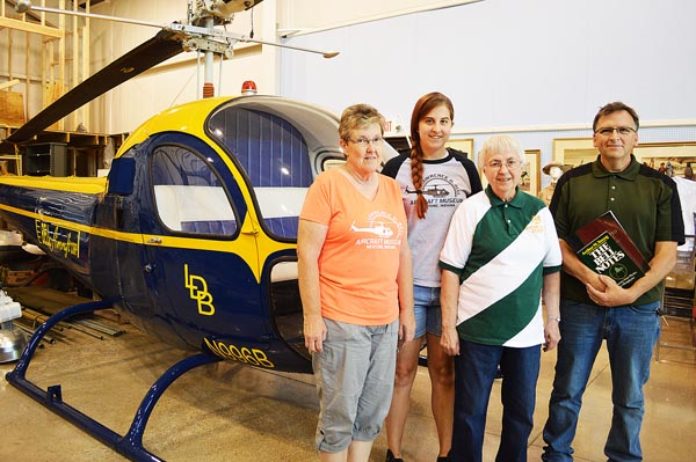 MENTONE – Helicopter enthusiasts and the community are invited to the seventh annual Rotors Over Mentone Fly-In Aug. 27 at the Lawrence D. Bell Aircraft Museum.
The event will be from 10 a.m. to 4 p.m. at the museum, 210 S. Oak St., Mentone.
Helicopter rides will be offered by American Huey 369 (with membership) and by Goshen Helicopter for a nominal fee.

There will be a raffle for a free ride on 369. Tickets are $5 each and will be sold from 10 a.m. to 2 p.m. People need to be present to win, and all proceeds go to the museum.
Food and drinks will be available at the concession tent. Admission and parking is free.

Marsha Scott, event co-chair, said the event was started by the museum's board members."They were trying to come up with a way to spotlight the museum. There are people who don't know we are here and we want to let them know we are," she said.

Steve Rogers, co-chair, said the museum's 47 H Bell,   47 G Bell and UH 1D helicopters will be on display, and there will be a fly-in of other helicopters with the number dependent on weather.

During the event, the museum will honor the aeronautical accomplishments of Arthur M. Young, inventor of the 47 H Bell helicopter.

Rogers said Young's autobiography, "Nested Time," and 'The Bell Notes," sketches of the airplane he developed, will be on display.

"People can come out and learn the history behind the helicopter," Rogers said. "Arthur dedicated 15 years of his life to develop the 47 H Bell and did not have any background in aviation."

The museum will play the full-length film, "The Birth of Bell Helicopter" and several documentaries by Young will be shown.

This year marks the 70th anniversary of the commercial Bell Model 47.

Guest speaker will be Robert J. Ruotolo. He is a writer, commercial photographer and cinematographer. He specializes in aerial and transportation systems photography.
He has been involved with photography professionally since the early 1990s. He has worked within the many fields of photography, including aviation, architecture, culinary and fashion.
He is also an aviation enthusiast, student pilot and advocate of aviation preservation. His first love and passion is for helicopters.

Ruotolo began his interest in aviation at an early age. He had planned on a career with the US Army hoping to fly the Bell UH-H Huey and Bell AH-IS/F Cobra helicopters.

Following a series of events that precluded his military career from happening, Ruotolo became involved in helicopter restoration with the USS?Intrepid. He also became an aviation consultant. His goals are to restore a UH-1, display it at airshows and open a museum in the northeastern part of the United States.

In addition to his career positions as a writer, photographer, cinematographer and aviation consultant, he has also been involved in positions as a musician, computer technician, graphic designer, commercial baker and a chef.

He is a native New Yorker and resides in New York.