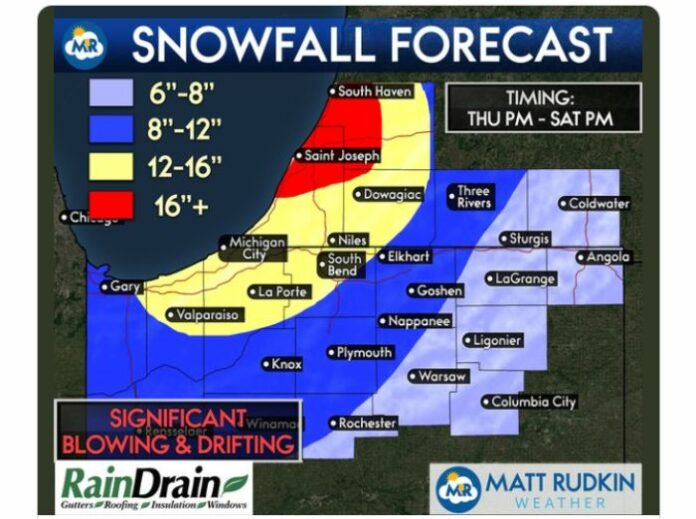 By Dan Spalding
News Now Warsaw
WARSAW — News Now Warsaw's meteorologist Matt Rudkin has issued his predictions for the upcoming snowstorm and it looks as if Warsaw will be spared the worst.
But that doesn't mean it won't be dangerous.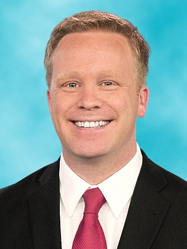 The massive storm is expected to arrive Thursday night and continue into Saturday, bringing with it blizzard conditions — heavy snow, temperatures falling below zero and winds gusting upward of 50 mph.
Compared to other areas to the north and west, it appears Kosciusko County will see less than half the snowfall expected closer to Lake Michigan.
Rudkin predicts much of southern Kosciusko County will see 6-8 inches of snow by Saturday morning.
Plymouth, Nappanee and Goshen could receive 8-12 inches of snow while South Bend, Mishawaka and LaPorte could see upward of 16 inches of snow.
The storm will bring blizzard conditions Thursday night through Friday which will make travel nearly impossible, Rudkin said.
Temperatures will fall Thursday night into the single digits, and strong winds will create wind chill values falling to near minus 30 degrees, Rudkin predicts.
Wednesday will be partly sunny with a high of 32 and a low of 28.
Conditions will change rapidly Thursday. The high will be near 35 but then fall to near zero by the night as the storm arrives.
Friday and Saturday will see high temperatures of 7 degrees and lows of -2.
Heavy lake effect snow is expected Saturday, but that will primarily affect areas closer to Lake Michigan.
A chance of light snow is expected on Sunday — Christmas Day — with high temp in the single digits.
Look for more updates on this story as the storm progresses.