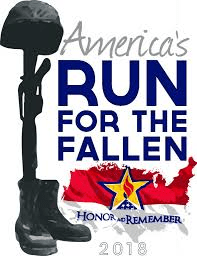 America's Run for the Fallen will pass through Fulton, Kosciusko, and Whitley counties Thursday and Friday, stopping overnight in Akron.
The event is a nationwide relay in tribute to every military service member who died while serving or as a result of serving during the War on Terror, starting with the attack on the USS Cole on Oct. 12, 2000. The run will cover more than 6,000 miles in 19 states, stopping every mile to read some of the nearly 20,000 names of the fallen.
The run began on April 7 on Fort Irwin, CA and will end August 5 in Arlington National Cemetery, across the Potomac River from Washington, D.C. in Arlington, Va. Each segment of the relay covers between 45 and 55 miles.
The relay will begin its Thursday segment in Francesville, then  go through Winamac before entering Fulton County on Ind. 14 not far from Kewanna. The route will follow the highway eastbound through Rochester to Akron.
Beginning at 7 a.m. on the Friday, the run will leave Akron for Silver Lake and South Whitley before calling it a day in Columbia City.
From there, the team will go through Fort Wayne, Portland, Anderson, Indianapolis, Gosport, Sandborn and Princeton before going through Evansville and entering Kentucky on June 30.
A core team of marathon trained runners, along with a support crew running a specific timed schedule, will stop at one mile intervals at a pre-placed marker and speak out loud the name of each fallen service member based on their chronological date of death. Family members, friends and patriots can be waiting at their marker to meet the runners and hear each name called out in a short ceremony.
Each ceremonial stop will be less than one minute as runners then continue toward the next marker. At the end of each day, including at the Akron Community Center Thursday, a longer ceremony will enable all attending to hear every name for that day read again. Hundreds of runners have been recruited for the relay, according to local organizer Russ Bauer of Silver Lake.
"This is a very eclectic group. There are runners from all over the country. There are veterans, there are non-veterans, there are guys with no legs, guys with no feet, guys in wheelchairs, ladies; really there's no limit to who can run, if they're capable," Bauer said.
"There is a core group that started in Fort Irwin, California, and that core group of about a dozen are generally veterans. There are some Vietnam veterans, but most are from Iraq, Afghanistan and those places. We did have a World War II guy run for a while out in Arizona."
Bauer received a Garrison flag from the governor many years ago, and he will fly it at the intersection of Ind. 14 and 15. There are plans to fly 1,000 3×5 American flags along the Ind. 14 route in Silver Lake.
"I hope to have the who damn town of Silver Lake lines with American flags when they come through."
First responders from communities near the parade route will also hang flags from ladder trucks.
For information on how to volunteer, contact Bauer at rdbauer@ctlnet.com. Daily updates can be found on the run's Facebook page and at runforthefallen.org.
"We're going to try to make this northern Indiana leg be as special as I'm humanly capable of," Bauer said. "And I know my community is going to be there to help."