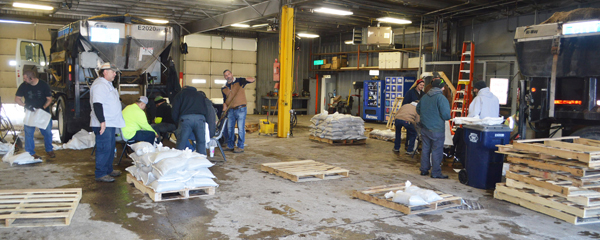 There's been snow, then the sun and rain melted the snow. Then more snow fell and more sun and rain are expected over the next week.
And with all of that, there's been some flooding in areas with potential for more flooding on its way.
If residents of the city of Warsaw need sandbags, the city has them available. If a person lives out in the county, the county has sand and bags available.
Warsaw Mayor Joe Thallemer, during the Board of Public Works and Safety meeting Friday, said, "With the rain, the ice and the snow, and 50 degrees on Sunday, more potential rain coming next week, we anticipate some flooding. The guys are busy filling sandbags. We'll have sandbags available. Later today, we'll have a press release that underscores the best way to request those sandbags, obviously earlier than later … if you're in an area prone to flooding."
The news release states that the city of Warsaw Public Works Department will have sandbags available for delivery to residents within the city limits. Sandbags will be available for scheduled deliveries only.  To request sandbags, call the Public Works Department first at 574-372-9561. If there is no answer at the Public Works Department, call the non-emergency Central Dispatch number at 574-267-5667, option 3, for assistance.
Street Superintendent Dustin Dillon said at the Board of Works meeting that they do encourage residents to call in and schedule a delivery of sandbags so that crews can be called in and have delivery to multiple residents at the same time.
At the Street Department where city employees from the street, parks, fire and police departments, as well as the cemetery, were helping fill sandbags and load them onto pallets, Dillon said they would be making sandbags until about 11 p.m. Friday. He estimated they'd have about 1,500 to 2,000. While most of the sandbags will be delivered by skid, there also will be some under the lean-to at the front of the city's street department on West Center Street.
Kosciusko County Emergency Management Director Ed Rock said for anyone out in the county, there will be sand and sand bags outside of the county highway garage on Old 30. They will be outside of the fence so county residents can get to them day or night.
"Just bring your own shovel and manpower," he said.
A fill station also is available at the end of the North Webster American Legion Post parking lot.
"We appreciate you take only what you need," Rock said. The county doesn't deliver sandbags.
"You're better off, if you need them, that you get them filled and put into place before it floods," he said.
Meteorologist Nathan Marsili, with the National Weather Service in Syracuse, said less than 1 inch of new snow was expected after midnight Friday night but wind gusts were expected to be around 40 mph, which would create quite a bit of blowing and drifting snow.
After a short break in precipitation this weekend, more rain was expected Monday night to Tuesday, with estimates in the 1/4th to 4/10th of an inch range. It looked like heavier rain would stay in the Kentucky and Tennessee areas.
Temperatures would get up to the 40s Sunday, causing snow to melt and run off. Temperatures would remain mild in the 40s Monday and upper 40s Tuesday, he said.
As for snow fall at the National Weather Service Station, he said there was a total of 30.6 inches from November to Friday, but there are 10 more days left in February. The average in the Fort Wayne and South Bend area is 41.5 inches of snow.
During the same time period, from November through Friday, there's been 8.97 inches of "liquid." The average is 11.8 inches.
"It's running below normal, but February isn't finished," Marsili said.