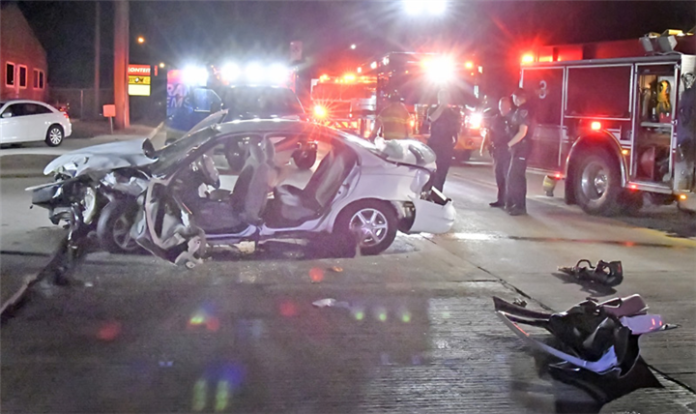 Police suspect a 16-year-old driver involved in Saturday night's crash in Warsaw may have been under the influence of alcohol.
At least one person was hurt.
Warsaw Police Department did not provide names on any people involved as of Sunday evening.
The collision occurred at 9:34 p.m. Saturday.
A white 2004 Oldsmobile Alero, driven by an adult male, was stopped for the stop sign on Gilliam Drive, preparing to make a northbound turn onto Detroit Street, according to information provided by WPD Capt. Brad Kellar, public information officer.
The Alero then pulled out in front of a southbound gray 2004 Nissan Armada SUV, occupied by three juveniles, the information provided states. The Armada made a right angle impact with the Alero on its driver's side.
Upon arrival by emergency personnel, the 24-year-old male in the Alero was unconscious and never regained consciousness while rescue efforts were administered. Lutheran Air was called upon and a landing zone was set up in Central Park.
The juveniles all had complaints of pain and were treated and released by EMS on scene. During the course of the collision investigation, Warsaw officers suspected alcohol impairment on the part of the 16-year-old female driver of the Armada. A criminal investigation began at that point, according to the WPD. Officers received cooperation from the juvenile and her parent who arrived on scene.
A consensual blood draw was taken at Lutheran Kosciusko Hospital. A search warrant was granted on behalf of the unconscious driver and executed at Lutheran in Fort Wayne.
Both vehicles sustained heavy damage and were towed from the scene.
WPD was assisted by Warsaw-Wayne Fire Territory, Lutheran medics, as well as Lutheran Air Ambulance, and the Kosciusko County FACT Team.
This investigation is ongoing.