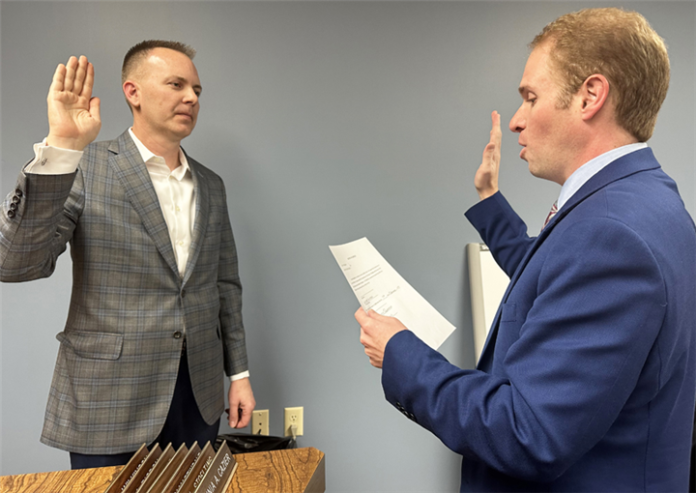 By David Slone
Times-Union
SYRACUSE – Nathan Scherer won the Republican caucus Tuesday evening for the Syracuse Town Council Ward 4 seat, beating out David Rosenberry and Brian Woody.
Scherer will serve the remainder of Larry Martindale's term, which expires Dec. 31, but he will have to go up against Rosenberry and Woody again in the May primary for a chance to win a full term.
Whoever wins the primary and fall general election will represent Ward 4 from Jan. 1, 2024, to Dec. 31, 2027.
Martindale resigned from the board effective Jan. 17.
During the caucus, each of the three candidates was given three minutes to speak to the four precinct committeemen about why they were running and why they were the best person for the job. The precinct committeemen were Virginia Cazier, Jim Layne, Karen Grady and Cindy Taylor, who was a proxy for Kimberly Cates.
In his three minutes, Scherer, 42, said he was a lifelong resident of Syracuse, except for four years when he lived in West Lafayette while going to college at Purdue and almost a year in Columbus, Ohio.
He moved back to Syracuse from Columbus in 2004 and started a business selling parts to Rinker Boat Co. He sold that business in 2020 to Patrick Industries, who Scherer is employed by today as the director of innovation.
"I'm passionate about small business and entrepreneurship and I feel fortunate that I've been able to come back to Syracuse and build a business and raise my family," he said.
A father of four, Scherer said he's been married to his wife for almost 17 years. He's been involved with coaching several sports for his kids and enjoy working with the youth of the community. He served on the board of directors for Joe's Kids in Warsaw and also served on the Noble County Economic Development Commission for over five years. He's also worked with Junior Achievement, teaching kids about small business and entrepreneurship.
"I'm looking forward to the opportunity to getting involved in my hometown," Scherer said.
Along with his experience in the manufacturing sector, he said he will also bring a strong determination to the council and make sure the council stays conscious of the challenging technological landscape that will affect the future of work and therefore how the town grows and functions.
Scherer said he will be open-minded and willing to collaborate with others to benefit the community. "I will lead with conservative values and drive change that will position the town to grow," he said.
After Kosciusko County Republican Party Central Committee Chair Mike Ragan announced Scherer won after the first and only vote by the precinct committeemen, Scherer said, "Thank you for the opportunity to serve the town of Syracuse. Again, thanks to David and Brian for stepping up to the call. I hope to act in a manner that represents our community well, being fiscally prudent and open to hearing other peoples' points of view and serving the community in the best fashion that I can."
Afterward, he told local media that he was excited and ready to get going. Scherer said he hasn't attended any Syracuse council meetings lately and will have to get up to speed on the issues by meeting with the town manager. He said he will make sure to reach out to the other council members and get their take on everything, including Martindale. He also plans to meet with each town department head and get their take on everything.
By the time the election rolls out, Scherer said hopefully the results will be the same and he can hit the ground running on the next four-year term.
The Syracuse Town Board seat is Scherer's first elected position, but he said he's been interested in politics before.