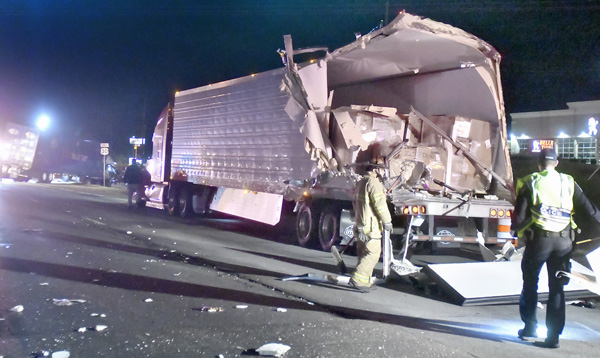 One semi rear-ended another Wednesday night, causing damage in excess of $100,000 to both semis and their contents.

Debris was strewn all about the intersection and in both directions of U.S. 30 near Anchorage Road, according to information provided by Warsaw Police Department Capt. Brad Kellar, public information officer. The accident occurred at 9:26 p.m.

The driver of a white 2015 International semi, identified as David L. Robinson, 47, of Chicago, Ill., stated that while he was eastbound on U.S. 30 in the right lane, he realized the other semi – a red 2022 Kenworth out of New Jersey, driven by Sukhpreet Singh, 27, of Queens Village, N.Y. – was slowing at the intersection. Robinson attempted to swerve, but could not avoid a collision, ripping open the trailer. There was heavy front-end damage to the International semi and heavy trailer damage to the Kenworth semi, according to the information provided.

Robinson complained of right foot pain and was taken to Kosciusko Community Hospital by EMS. Singh complained of pain to his neck and back and was taken to KCH by EMS. Kellar said injuries reported were minor considering the wreckage left behind.

The International's truck and trailer was towed by Reicherts. The Kenworth's truck and trailer were towed by Glen's.