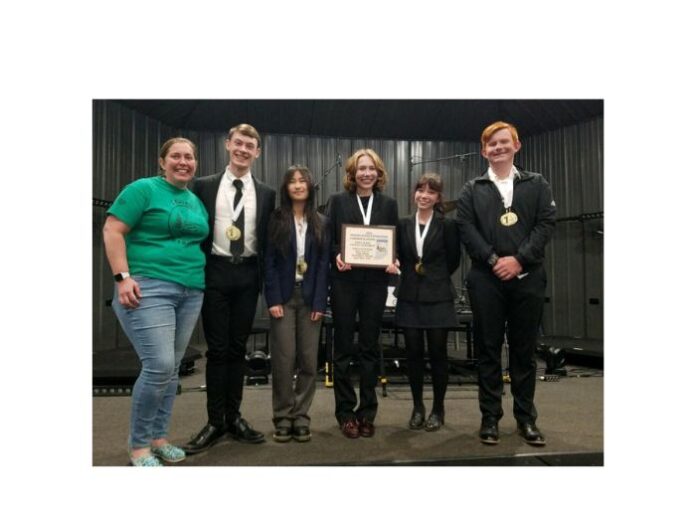 News Release
WARSAW — On Wednesday, April 26th, 10 students represented WCHS at the state Envirothon competition at Camp Illiana in Washington, Indiana.
In the overall competition, the Warsaw Seniors took the top spot.
At the state level, teams prepare an oral presentation with a proposed solution to an environmental problem related to the current issue.
The senior team, consisting of Keller Bailey, Piper Ellis, Cordelia Grandon, Edward Robison, and Valerie Tong, scored highly in the written exam, including a perfect score in Aquatic Ecology.
Their oral project, "Combating Climate Change through Urban Development" was awarded first place with judges praising the team's "clean mission statement, and how "professional and knowledgeable" approach in all of the topics.
As the state champions, they are now eligible to represent the state of Indiana at the NCF Envirothon competition in New Brunswick, Canada this summer.
The team of juniors included Caleb Aukeman, Var Bobba, Ana Brito, Bronwyn Harrison, and
Ebonie Miller; they had an excellent showing at the Northeast regionals placing second. At the state competition they presented their project for a community-wide composting facility, with the judges complimenting the team on its "very comprehensive plan" and "impressive amount of engagement with local organizations and professionals."
Envirothon promotes environmental education to high school students.
The goal of this academic competition is to promote a desire to learn more about the natural environment and promote stewardship of natural resources. Teams compete by answering questions in five areas which include soils & land use, aquatic ecology, wildlife, forestry, and a current issue that is adapting to a changing climate. They are tested both in a written exam and a hands-on field test.