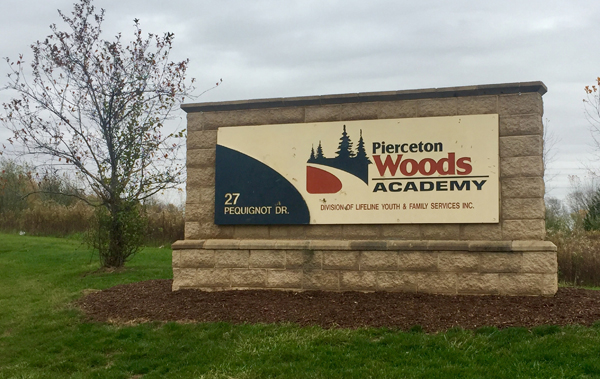 A lawsuit has been filed against Pierceton Woods Academy and employees there after a juvenile reported he'd been a victim of sexual assault while under their supervision.
Pierceton Woods Academy, 27 Pequignot Drive, is a residential placement facility for boys in grades 7 through 12 in need of services. It is a private Christian alternative school with a teacher to student ratio of 1:7, according to privateschoolreview.com. The facility is managed by LifeLine Youth & Family Services Inc. and Lasting Change Inc.
Attorney Travis McConnell filed a civil suit Thursday in Kosciusko Circuit Court on behalf of his client, a man whose minor son was a resident and alleged victim at Pierceton Woods Academy.
The suit is against Lasting Change Inc.; LifeLine Youth & Family Services Inc.; Darby Ellis Perry, an employee there; Brian Perry, an employee; Joe Gough, vice president of residential services; and Mark Terrell, CEO.
According to court papers, the lawsuit alleges Darby engaged in a pattern of conduct over multiple years where she methodically seduced multiple children to engage in sexual acts with her on the grounds of the academy and at local venues during unsupervised outings with the minors. The lawsuit alleges the outings were permitted by LifeLine and Lasting Change, "in conformity with the institution's lax policies."
The suit claims both LifeLine and Lasting Change were negligent and owed a duty to prevent sexual assault against the residents under its charge.
A battery claim is charged against Darby for her alleged behavior between July and December 2019 against the minor plaintiff where she would "work to change the hearts of the residents by earning trust through promises and counseling; inducing or encouraging residents to use drugs and promising that she would not report said use to supervisors; falsifying drug screen reports for residents; repeatedly telling residents they were in the 'circle of trust'; engaging in dirty talk and encouraging gossip of the same; kissing; full-front hugging; handholding, and allowing and encouraging hands to be placed on buttocks or other areas of her body; fondling of her body, including genitalia, and of other residents; requesting penetration from other residents; performing oral sex on the residents; and engaging in sexual intercourse with residents on their 18th birthday and beyond."
The suit claims that in 2017, Darby was the suspect of an investigation with law enforcement involving accusations of sexual assault on another resident at the academy. Other staff members there also told of Darby's inappropriate activities, the suit alleges.
The lawsuit further says that LifeLine and Lasting Change took no preventative actions in response to the 2017 accusations and investigations against Darby but rather promoted her and kept their "deficient policies in place to protect residents from sexual assault by its employees and agents."
The lawsuit goes on to say that Lasting Change and LifeLine allowed Darby to take minor residents to areas of the campus that are not recorded or visible to third parties and on unsupervised outings off premises. The company allegedly did not require more than one staff member to go on the off-premise outings as a cost-saving measure, according to the lawsuit.
The suit also alleges all defendants engaged in a conspiracy to "negligently operate the Pierceton Woods facility in disregard for the well-being of its residents, namely failing to protect them from sexual assault," even after the situation was investigated by the Indiana Department of Child Services and Pierceton Police Department, who both allegedly determined the offenses have occurred, according to the suit. The suit further claims that Darby continued to have access to the building where residents lived during the investigation.
As far as the claims against Brian Perry, the lawsuit alleges he and Darby were in an intimate relationship since at least 2017 and that he used his position of authority at Pierceton Woods to "threaten and intimidate residents to prevent them from making complaints or to withdraw them once made," as well as using discipline or the threat of discipline on residents who made and persisted in their complaints against staff members. The suit alleges Brian was in conspiracy with LifeLine and Lasting Change and the other defendants in the case. That conspiracy claim is represented among all of them for allegedly disregarding and concealing reports of sexual assaults from the appropriate authorities.
McConnell writes that as a direct and proximate result of the situation, his client has suffered damages including bodily injury with a permanent psychological injury, pain and suffering, disability, mental anguish, inconvenience, loss of capacity for the enjoyment of life, expense of hospitalization, medical and nursing care and treatment, loss of income and loss of ability to lead and enjoy a normal life. Those losses are either permanent or continuing, and his client will suffer the losses in the future, McConnell wrote.
"To date, Pierceton Woods Academy has taken no meaningful action to remedy the policies that permitted these sexual offenses. Nor has Darby Ellis Perry been charged with crimes brought to Kosciusko County Prosecutor Dan Hampton's attention in early 2020," McConnell said. "The victims of Lasting Change and LifeLine deserve justice, just as the citizens of Kosciusko County deserve to see charges filed against individuals who violate Indiana's child seduction law."?
Pierceton Police Department Chief Tim Sammons told the Times-Union he is aware of the civil lawsuit and that his agency submitted a criminal case pertaining to this case to the Kosciusko County Prosecutor's Office for review, however, he has not heard of a decision from the prosecutors about moving forward with criminal charges.
In a statement to the Times-Union, Hampton said of the matter: "Just prior to the pandemic, information about Pierceton Woods was brought to local law enforcement's attention, which began an investigation that remains ongoing. In every criminal investigation, law enforcement conducts a very thorough examination – not relying solely on assertions, assumptions or allegations– but rather on factual evidence. Due to this ongoing investigation, I will not confirm or deny any allegations raised in any civil lawsuit."
Attempts to reach LifeLine and Lasting Change were unsuccessful, and it is unknown if any of the defendants have attorneys representing them in this cause.