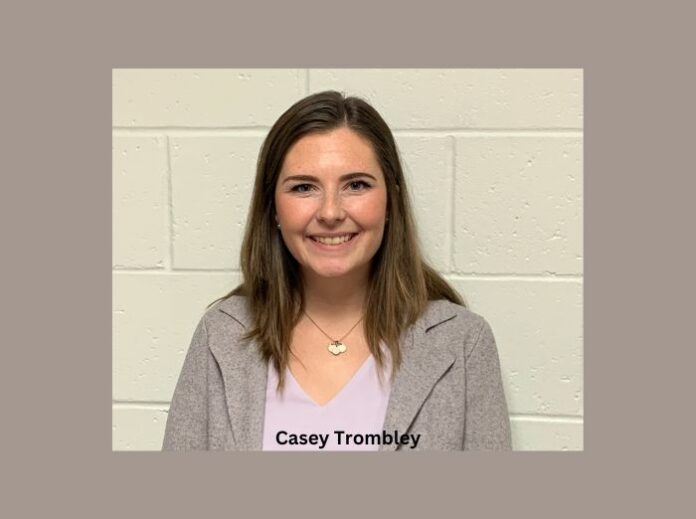 News Release
WARSAW — Kosciusko County Sheriff Jim Smith announced on Friday the hiring of Casey
Trombley as the new JCAP Coordinator.
Trombley graduated from Warsaw Community High School and continued her education by earning a Bachelor's Degree in criminal justice from Indiana University.
She is currently finishing her master's degree in Clinical Mental Health Counseling from Grace College.
JCAP is a program run inside the jail for inmates struggling with chemical additions.
Before accepting the position of JCAP Coordinator, Casey worked for five years in
the prosecutor's office for Superior Court 2 working with misdemeanors and low-
level felonies. She also spent time working at Heartline Pregnancy Center as a
client advocate.
Casey and her husband, Cole, are residents of Warsaw and have two sons, Theodore (4) and Wyatt (2).
Casey also enjoys being part of the Big Brothers & Big Sisters
program.
"I'm excited and looking forward to making a positive impact
with the men and women of the JCAP program, the volunteers, and the
community leaders as we continue building on the successes the program has
had," Trombley said. "I want to thank Sheriff Smith for entrusting me to continue to grow the program that means so much to so many people in our community. "
Smith said he is excited for Trombley and the JCAP program as a whole. He also thanked Courtney Jenkins, who has served as the director previously.
"I commend Courtney Jenkins, for the incredible work she
has done for the program and moved it forward during her time as director. My
hope and desire is that we can continue the partnerships with all of the
organizations and volunteers that have been so instrumental in the program's
success," Smith said.