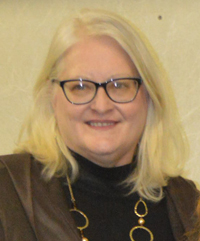 Sidney will need a new clerk-treasurer and town attorney.
Clerk-treasurer Etta Hurd, who was appointed to the position Jan. 23 by Kosciusko County Republican Party Chairman Mike Ragan, resigned at the end of the town council meeting tonight.
She said when she was appointed, she thought she would have the time necessary to do the work as clerk-treasurer. However, since then, she's gotten news on an issue with a family member and it's not getting better, she said. "I just can't give you the time I thought I could," she said, saying her last day will be Tuesday.
Hurd said she will be handing everything over for her position Tuesday to the town board. Hurd's term doesn't expire until Dec. 31, 2023. In a telephone call Monday, Ragan said, "I'm sorry to hear it. I thought she'd be an excellent clerk, but family comes first and we'll proceed accordingly."
Ragan has a minimum of 10 days and a maximum of 30 days to call a caucus to replace Hurd. Two Sidney board members – Republican Ricky Bradley and Democrat Kenneth Koontz – and clerk-treasurer Lana Wolfe, a Republican, resigned effective Jan. 14. Only Democrat and town board member Jack Wolfe did not resign. In a telephone call from Lana Wolfe tonight, she said she didn't want the position back.
Along with Hurd on Jan. 23, Ragan appointed Sharon Rancourt as the Republican town board member to replace Bradley. Democrat Party Chairman Brian Smith named Gavin Parrett as Koontz's replacement. Jack Wolfe also announced at tonight's meeting that attorney Matt Shipman, of Columbia City, said he no longer wants to represent the town.
Rancourt said she reached out to a lawyer at Rockhill Pinnick LLP prior to tonight's meeting because she stated she knew that law firm did municipal work. She said if retained, a lawyer from the firm wouldn't attend the town meetings unless it's an urgent matter. The law firm is also asking for a two-hour retainer to begin with, which is $450, and will bill the town $225 from that on.
Parrett said he thought the town should have an attorney on billing. Rancourt said she will bring in more information regarding retention of a new town attorney to the next council meeting, which is March 9.
During the meeting, the town council also approved:
• Setting up a PO box at the Pierceton Post Office for the town. That way, Rancourt said, the town's mail will all go to one place and be separate from people's personal mail. In the past, the town's mail would go to council member's houses.
• Voted to look into a cellphone for the town that will go from clerk-treasurer to clerk-treasurer instead of the landline Wolfe has at his house.