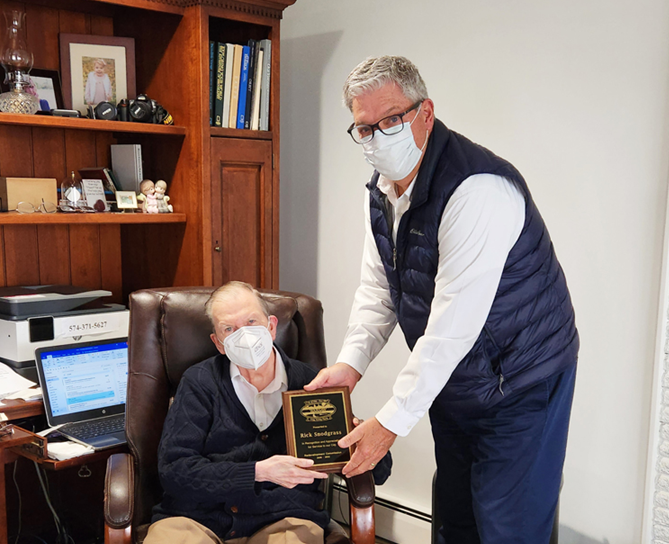 Editor's note: This story originally appeared in the Times-Union.
Staff Report
WARSAW — Warsaw Mayor Joe Thallemer recognized Rick Snodgrass on Thursday for his service on the Redevelopment commission.
Snodgrass recently resigned from the commission after many years of service. Thallemer, Community and Economic Development Director Jeremy Skinner and Redevelopment Commission President Tim Meyer presented him with a plaque recognizing his service to the city.
Snodgrass served on the Redevelopment Commission from 2008 to 2022. He was passionate about his service on the board and to the community that he loves, according to a news release from the city. He served as president of the board from 2010-2011 and vice president from 2012-22.
Snodgrass is particularly fond of the new City Hall project that was guided by the redevelopment commission's actions and bonds because he worked for First National Bank in the same building for many years. Snodgrass has shared many stories of his time in the bank and where different features and offices of the bank facility used to reside, the news release states.
Snodgrass first joined the First National Bank in 1970 as a management trainee. He ascended to senior vice president in 1975 and served the bank until it was sold in 1998.
He was very involved in community service, working with the United Way, Chamber of Commerce, Home Builders Association, Parade of Homes, Warsaw Community Development Corporation and Sacred Heart Catholic Church.
"Rick has been a true community pillar, always using his talent and time to better our city," Thallemer said. "He has always been very committed to Warsaw and we will miss his trusted guidance on the redevelopment commission."