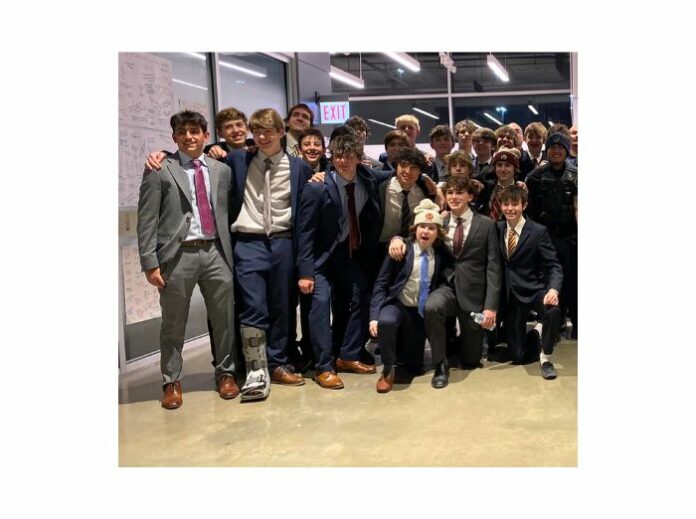 By Dan Spalding
News Now Warsaw
WARSAW — A large contingent of first responders and local officials from Warsaw attended St. Ignatious prep school hockey team's return to the ice Sunday night — two months after a bus crash in Warsaw injured 16 people from the school.
Among those attending the game in Chicago were Warsaw police, Lutheran EMS, Warsaw-Wayne Fire territory, Lutheran Kosciusko Hospital and Warsaw Community Schools.
The accident on Saturday, Nov. 12, happened shortly after the hockey team left a restaurant in Warsaw in a bus and was struck by a semi-truck as it crossed U.S. 30 on East Center Street.
Sunday night's game marked the team's return to action.
The school reached out to officials in Warsaw ahead of time and invited them to attend in appreciation of the assistance provided after the crash.
Local participants gathered for a reception and Lutheran EMS Director Alicia Mediano, dropped the puck right before the start of the game.
"A lot of times in our field, we see them in the worst of their worst. And then, we don't really get to see the outcome," Mediano said.
"So to watch the boys play last night and to see their excitement and see them in their element was something that it's definitely a memory that will be cherished for me for my career.
Mayor Joe Thallmer said the gesture was overwhelming. He said the coach and parents told him they hope the gathering provides some closure for the school.
"It was probably one of the most emotional events I've been to in my twelve years as mayor — it was really special," Thallemer said.
The driver of the truck, Victor Santos, of Brooklyn N.Y., is suspected of being intoxicated and faces 26 felonies in the case.
Three players are still recovering from the accident.
The game was played at the same arena that serves as the practice facility for the Chicago Blackhawks and is about three blocks from the United Center.
In the game, St. Ignatious defeated Marmion Academy, 5-0.
To check out WNDU's coverage, click here.