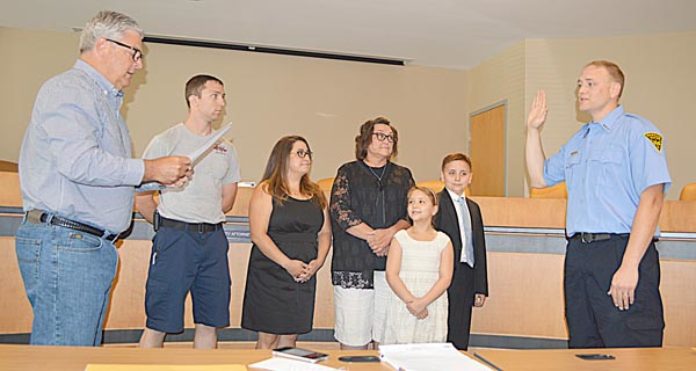 Trent Stamper is an official firefighter with the Warsaw-Wayne Fire Territory.
He completed his first year with the Fire Territory as a probationary firefighter, and took his oath of office Friday morning during the Board of Public Works and Safety meeting.
Mayor Joe Thallemer gave Stamper the oath of office with Stamper's brother, mother, wife and two children looking on.
Before Trent took the oath, Fire Chief Michael Wilson said it was a long time coming. He said Trent was a familiar face to the city, having worked for the city previously in maintenance at city hall.
"He came out of this corner and we got lucky and we got him," Wilson said. "It's been an honor, Mayor."
After Trent took the oath, Thallemer said, "Knowing Trent, obviously, a while, we kind of go back, but Trent did a marvelous job in the community. He's done a marvelous job here when he worked at city hall. I hated losing him, but I knew his potential was such that he wasn't going to be with us too much longer. He found a home with the Fire Territory and I know all of you guys are proud to have Trent involved. I'm so gratified to have the family here, standing here next to him, as he moves on to his new role."
Trent said, "I would just like to show appreciation to all of you that are here and the guys that couldn't be here. I wouldn't have made it without you."
"You're official now, Trent, now get to work," Thallemer said.
Wilson said that as part of the tradition, a firefighter must pick someone to have their badge pinned on them. He chose his brother, Quinten Stamper, to pin the badge on him. Quinten is a probationary firefighter with the Fire Territory.
"It's his second week and I hope he doesn't stab me," Trent joked.