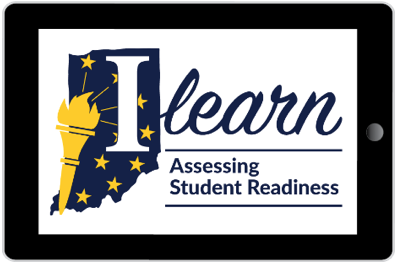 Fewer than one-third of elementary and middle school students in Indiana recorded passing scores on the latest round of state standardized tests.
That confirms education officials' concerns that the coronavirus pandemic has fueled substantial learning loss. The Indiana Department of Education Results on Wednesday released results from the spring ILEARN exam.
Those results show that 40.5% of students are at or above proficiency standards in English, and 36.9% are at or above proficiency in mathematics. Only 28.6% of students statewide in grades 3 through 8 are proficient in both English and math. That's a drop from 37.1% the last time the test was administered in 2019.
On a local level with ILEARN scores, Warsaw Community Schools showed proficiency rates at 45.8 percent for English, 46 percent for math, 40.5 percent in science, 37.8 percent in social studies and 41.2 percent in biology.
Eisenhower Elementary scored the highest in English, math and social studies, all over 55 percent, while Washington Elementary had the highest science proficiency at just under 46 percent.
Tippecanoe Valley scores as a corporation were at 37.9 percent for English proficiency, 41.2 percent for math, 40.2 percent for science, 32.6 percent for social studies and 21.1 percent for biology.
You can find the full ILEARN results through the IDOE website here.
Below are the local results of the ILEARN scores:
| | | | | | | |
| --- | --- | --- | --- | --- | --- | --- |
| School Corporation | School | English Proficiency | Math Proficiency | Science Proficiency | S.S. Proficiency | Biology Proficency |
| WARSAW | CORPORATION | 45.80% | 46.00% | 40.50% | 37.80% | 41.20% |
| | Claypool | 37.50% | 45.40% | 40.70% | 28.20% | N/A |
| | Eisenhower | 57.60% | 58.90% | 42.60% | 56.40% | N/A |
| | Edgewood | 51.50% | 40.80% | N/A | N/A | 75% |
| | Harrison | 45.70% | 45.10% | 39.70% | 23.50% | N/A |
| | Jefferson | 38.10% | 42.70% | 39.10% | 42.90% | N/A |
| | Lakeview | 40.90% | 35.40% | N/A | N/A | 93% |
| | Leesburg | 39.90% | 50.20% | 27.40% | 21.90% | N/A |
| | Lincoln | 50.30% | 57.90% | 42.90% | 41% | N/A |
| | Madison | 44.60% | 51.80% | 42.10% | 39.70% | N/A |
| | WCHS | N/A | N/A | N/A | N/A | 30.70% |
| | Washington | 45.30% | 46.60% | 45.90% | 49.40% | N/A |
| | | | | | | |
| School Corporation | School | English Proficiency | Math Proficiency | Science Proficiency | S.S. Proficiency | Biology Proficency |
| TIPPECANOE VALLEY | CORPORATION | 37.90% | 41.20% | 40.20% | 32.60% | 21.10% |
| | Akron | 36.70% | 38.30% | 21.90% | 33.80% | N/A |
| | Mentone | 37.60% | 50.50% | 44.30% | 31.50% | N/A |
| | TVHS | N/A | N/A | N/A | N/A | 17.70% |
| | TVMS | 38.70% | 38.20% | 47.90% | N/A | 33.30% |
| | | | | | | |
| School Corporation | School | English Proficiency | Math Proficiency | Science Proficiency | S.S. Proficiency | Biology Proficency |
| WHITKO | CORPORATION | 35.20% | 26.80% | 34.30% | 40.80% | 18.20% |
| | Pierceton | 27.70% | 30.10% | 28.30% | 32.50% | N/A |
| | South Whitley | 52.40% | 40.50% | 42.50% | 50% | N/A |
| | Whitko Jr/Sr HS | 29.10% | 12.20% | N/A | N/A | 18.20% |
| | | | | | | |
| School Corporation | School | English Proficiency | Math Proficiency | Science Proficiency | S.S. Proficiency | Biology Proficency |
| TRITON | Triton Elem. | 43.80% | 40.80% | 47% | 58% | N/A |
| | Triton Jr/Sr HS | 61.40% | 38.60% | N/A | N/A | 39.70% |
| | | | | | | |
| School Corporation | School | English Proficiency | Math Proficiency | Science Proficiency | S.S. Proficiency | Biology Proficency |
| WAWASEE | CORPORATION | 36.30% | 33.10% | 32.20% | 35.30% | 31% |
| | Milford | 35.90% | 32.40% | 41% | 25% | N/A |
| | North Webster | 42.10% | 35.40% | 28.10% | 36.50% | N/A |
| | Syracuse | 37.70% | 49.30% | 40.70% | 39.60% | N/A |
| | Wawasee HS | N/A | N/A | N/A | N/A | 31% |
| | Wawasee MS | 33.60% | 23.90% | 24.40% | N/A | N/A |
| | | | | | | |
| School Corporation | School | English Proficiency | Math Proficiency | Science Proficiency | S.S. Proficiency | Biology Proficency |
| WA-NEE | CORPORATION | 54.40% | 61.90% | 54.90% | 41% | 34.70% |
| | Nappanee | 53.50% | 66.30% | 45.60% | 32.80% | N/A |
| | NorthWood HS | N/A | N/A | N/A | N/A | 34.70% |
| | NorthWood MS | 51.40% | 56.30% | 61.40% | N/A | N/A |
| | Wakarusa | 62% | 72.70% | 57.50% | 48.30% | N/A |
| | Woodview | 56.60% | 64.60% | 39.40% | 38.60% | N/A |
| | | | | | | |
| School Corporation | School | English Proficiency | Math Proficiency | Science Proficiency | S.S. Proficiency | Biology Proficency |
| WHITLEY COUNTY CONS. | CORPORATION | 39% | 35.90% | 44.30% | 38.70% | 33% |
| | Columbia City HS | N/A | N/A | N/A | N/A | 33% |
| | Coesse | 43.20% | 52.30% | 44% | 40.70% | N/A |
| | Indian Springs | 40.60% | 28.10% | 49.30% | N/A | N/A |
| | Little Turtle | 31.20% | 38.60% | 33.80% | 42.70% | N/A |
| | Mary Raber | 29.60% | 30.60% | 32.10% | 22% | N/A |
| | Northern Heights | 42.90% | 53.50% | 42.30% | 41.10% | N/A |