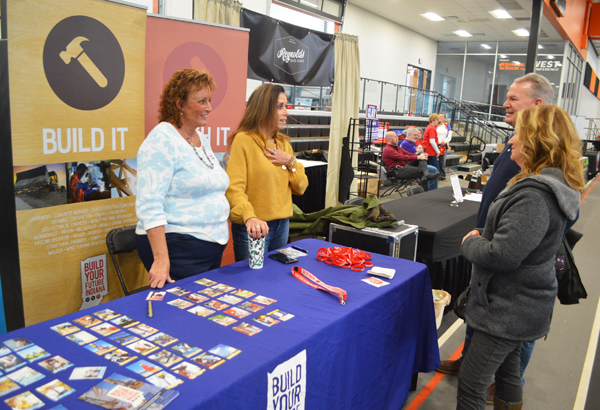 Attendance over the weekend during the annual Home & Outdoor Show was "steady," according to Kim McKibbin, executive officer for the Builders Association of North Central Indiana, on Sunday.
The three-day event was held for the second year at the Warsaw Community High School Tiger Recreation and Activity Center. It started at noon Friday and went until 4 p.m. Sunday.
"The traffic has been steady. Some people come in and they just want to see specific vendors, and then you can tell that they've stayed a while, so they have found other interests that they're looking at," McKibbin said.
Tyler Miller, with Timber Rock Construction, committee chair for the Home & Outdoor Show, said the show "has gone well. We've had a lot more people here this year than last year even. So we've got a lot of traffic. A lot more vendors, too."
He said people attending the show were looking to have things done to their house or were looking to find out what's available out there as far as home and outdoor services.
"It's been very consistent as far as traffic, all the way through here, from Friday at noon to today," Miller said, later adding that as of about 2 p.m. Sunday, there had been 1,140 people come through the event.
Chris Gaby, salesman at Collier's Heating & Air Conditioning, said he thought the numbers seemed up from last year.
"It's been good traffic," he said.
Collier's has been a part of the show every year that they've had it, Gaby said. "We love the facility. It's a great facility for this event."
There were 63 vendors, which was 20 more than 2021, McKibbin said.
"It was a little bit of everything, actually," she said, noting that a "whole back section" of vendors was added this year. "So there's realtors over there. There's water. We've got the (Warsaw Area) Career Center this year, so they didn't get in here last year. So we've got them over there. We've got Habitat for Humanity in here, so they've got their own booth this year. They're even talking to us about putting a home in the (Homes on) Parade in the future, which is good because that's what we want to do. We want to show community support. So, absolutely, enter a home in the Parade because that helps get them out in the public as well."
Miller said the WCHS TRAC is a great facility for the Home & Outdoor Show.
"It's big. We've got plenty of room to expand the show so we're hoping it will continue to grow," he said.
McKibbin said they've already started planning for the 2023 Home & Outdoor Show.
"We've got a list going. We're talking to the vendors. If they want to do early bird sign-up, we offer them a discount on their booths if they want to sign up early. We start that as soon as this one is over, basically," she said.
In planning for the next show, McKibbin said they'll look at what worked well this year, what do they want to add and what new ideas can they come up with.
"This is the second year that we've been here, so I think word got out from the other businesses in the area that, 'Hey, we did great at this show.' I've had people tell me that they were in the Fort Wayne show a couple of weeks ago and there was just too many people, the rows were too close together so they couldn't have conversations with people. So, they don't have the quantity that the Fort Wayne show gets but they've got quality people in here," McKibbin said.
Miller said, "We would like to just see them out next year and we'll be back here at the TRAC."
McKibbin also highlighted a program that BANCI has partnered with the state of Indiana on, called Build Your Future Indiana, which had a booth at the weekend's show.
"It's specifically trying to get kids – the youth – involved in the trades because we have Plan It, Build It, Finish It. So between those three, there are probably 60 cards different over there (at the booth) in those categories," she said. "They can take a quick quiz online and, from how they answer the questions, it can tell them '37%, you would be good as a mason; 20% of how you answered your questions, you would be good for a marketing consultant.'"
McKibbin said it gives kids who can't get afford a four-year college or who don't want to go to a four-year college some ideas for a career.
"We can set them up with one of our members, and then they can do work as an apprentice under one of our members. Because the thing is, when they get out of a four-year college, the debt is $100,000-plus. In that four years, they could have made that amount of money. The average age of a plumber and an electrician in the state is 58," she said, so those type of professionals are needed.
For anyone who may have missed the Home & Outdoor Show in Warsaw, BANCI has a show coming up next weekend in Plymouth. It runs April 2-3 at The Zone Sports Complex, 2923 VanVactor Drive, Plymouth, from 12 to 6 p.m. Saturday and 12 to 4 p.m. Sunday.
For more information about BANCI, visit www.buildnci.com.