While last week's solidarity rally held at the Kosciusko County Courthouse promoted peace and unity, apparently, a few participants couldn't resist leaving crudely crafted messages attacking Nazis and President Donald Trump.
County workers discovered courthouse benches splattered with a handful of stickers that condemned Nazism and Tom Metzger, a well-known local white supremacist. One sticker specifically targeted Trump with a vulgarity.
County Commissioner Brad Jackson provided photos of the stickers to fellow commissioners and the media 
Tuesday
. Jackson said no police report was made and no damage was caused by the vandals, but the county had to have workers remove the stickers and residue.
Jackson said "it appears" the incident might have been connected to a rally the night before on Aug. 14. The rally was initiated in response to the Charlottesville protests involving white supremacists and Nazis that turned violent and led to the death of a counter protester.
He called the incident "disrespectful" and said it seemed to conflict with some of the messages echoed at the rally.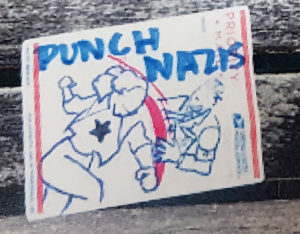 Brian Smith, the Kosciusko County Democrat Party chairman who helped organize the event, was told of the vandalism 
Tuesday
 afternoon. He said he had been unaware of the incident and condemned it.
"I do not condone any disrespectful messages and property destruction. However, I encourage Commissioner Jackson to review security camera footage (if it exists) to bring the perpetrators to justice."
Smith said he looked around after the event to make sure everything was cleaned up and did not seen anything improper at that time.
Jackson said he can't remember any incidents of vandalism on the courthouse grounds in his two decades with the county.