By Dan Spalding
News Now Warsaw
WARSAW — Plans are under way for the tenth annual Christmas show featuring Susie McEntire.
The holiday show has become an annual tradition that mixes entertainment with a sense of community and benefits Toys for Tots.
This year's show will be at 7 p.m. Dec. 16 at Lakeview Middle School in Warsaw.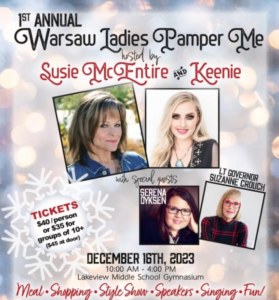 Organizer Mike Loher said they're planning a few surprises for the show plus a few changes.
The legacy of supporting Toys for Toys will also continue, he said.
"It's estimated that this event, over the course of years, has brought in somewhere between $60,000 and $70,000 worth of toys," Loher said.
This year will feature a professor from Goshen College providing sign language and the show will be recorded and made available for shut-ins, he said.
This year's event will also include a holiday show during the day designed for women known as Warsaw Ladies Pamper Me. McEntire has brought the show to other towns and wanted to bring it to Warsaw for the first time.
The event will run from 10 a.m. to 4 p.m. and include vendors.
Pamper Me will include a meal, shopping, a style show, and speakers including Lt. Gov. Suzane Crouch.
Crouch is running for governor, but Loher said her talk will be inspirational in nature.
You can learn more about the Pamper Me event by checking out this link.