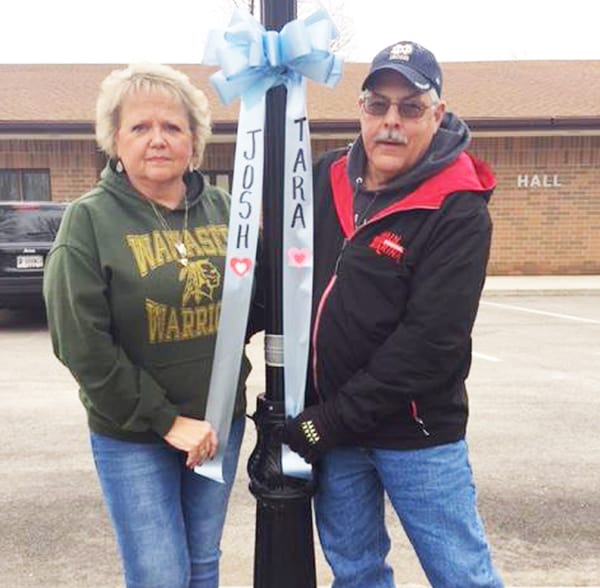 For two Syracuse families, today marks an anniversary that they'd rather not have to commemorate, and at the same time cling tenaciously and even fight to keep the memories of lost loved ones at the forefront.
Early on the morning of Feb. 19, 2015, Joshua Knisley and Tara Thornburg were shot in uptown Syracuse. Knisley died at the scene, and Thornburg died one day later in a Fort Wayne hospital.
Brandon Woody, Kyle Dehart and Thomas Hursey, also from the Syracuse area, were convicted of the murders in October 2016.
Over the weekend, several volunteers helped Rhonda Bickel, Knisley's mom, to hang blue ribbons on light poles throughout Syracuse to mark today's anniversary, helping to keep the memories of her son and his girlfriend alive.
"You hear everyday on television about shootings and murders," Bickel said. "But, first of all, you think it will never happen to your child. And, secondly, that it would never happen here in Syracuse. Those things just don't happen here.
"But, unfortunately the evil in this world rocked our families and this community to its core. And took two beautiful souls that awful night."
Bickel said in the time since the incident,  the families have benefitted from an outpouring of support.
"We have been so blessed by the way our community has embraced our families during this difficult time," she said. "The community has truly wrapped their arms around us.
"I know at Josh's viewing, we greeted people for eight hours straight. Hundreds of people stood outside in the cold waiting to give their condolences and offer their support. But most importantly they wanted to share all their wonderful stories about our son; about how polite and respectful he always was and what a golden heart he had. How he was always there for everyone, and about his electrifying smile.
"His funeral procession was the entire length of the town. What a tribute to him and the person he was. I know the Thornburg family also experienced the same."
Bickel reiterated it's always tough for a parent to lose a child, and having others remember that child helps with the grieving process and adjusting to life with an emotional hole in the heart.
"I don't think anyone realizes how important it is to a parent who has lost their child, to keep their memory alive.  You always want everyone to remember them and the golden hearts they had. Josh and Tara were two of the most kind-hearted people you could ever meet," she said.
"These three years have been every parent's worst nightmare. But it has also been amazing to us about all the love and compassion this community has shown not only to us, and both our families … but the out pouring of love and respect to Josh and Tara.
"For that, we will be forever grateful."