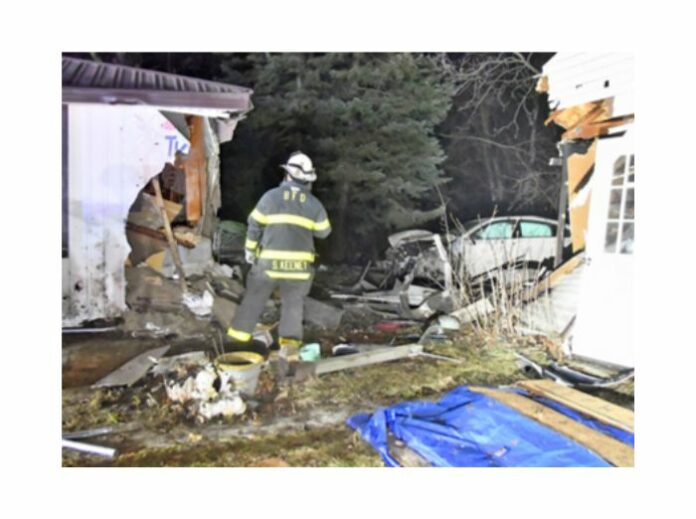 By David Slone

Times-Union
PALESTINE – Alcohol and slick road conditions may have contributed to an early Sunday morning in which a car struck a house, injuring the driver, a passenger, and a resident inside the home.
The driver of the car, Brandon Eugene Hoffman, 18, of 9768 S. CR 600W, Silver Lake, was booked into the Kosciusko County Jail at 4:55 a.m. Sunday for operating a vehicle while intoxicated, refusal to submit to a chemical test and consumption of alcohol by a minor. His initial bond was set at $700.
According to a Kosciusko County Sheriff's Office report, a white 2014 Chevrolet IMT, driven by Hoffman, was traveling north on South CR 600W in the area south of 3980 S. CR 600W, in Palestine, at around 2:50 a.m. Sunday.
The house has a Mentone mailing address, but the accident happened in Palestine, just south of SR 25.
Hoffman told investigators that the road was slick and he could not negotiate a curve in the street. The Chevy exited the road near the south driveway of 3980 S. CR 600W and collided with a tree stump. The report states that the car then collided with the house and detached garage and struck a tree before coming to a rest.
Hoffman had blood coming from his nose and face but declined medical treatment.
A passenger in the vehicle, Branson McBrier, 19, of 6759 S. CR 1000W, Mentone, suffered minor bleeding to the elbow and lower arm, according to the police report, and was released by medics at the scene.
The owner of the home, Bernice D. Meadows, was sleeping in the room struck by the collision at the time of the crash. She complained of pain in her left shoulder and right knee, as well as a possible broken left wrist, the report states. Medics took her to a hospital.
Hoffman and McBrier were both tested for alcohol and an "operating a motor vehicle while intoxicated" investigation was conducted on Hoffman, according to the report. Hoffman's pending portable breathalyzer test was listed at .20 on the report.
Damage was listed as $25,000 to $50,000, according to the report.