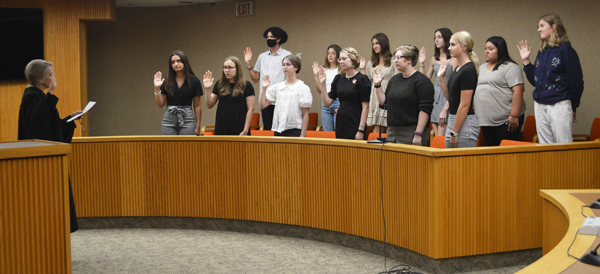 TIMES UNION REPORTS – Twelve teens were sworn in to the Kosciusko County Teen Court Monday by Superior Court I Judge Karin McGrath.
Lana Horoho, Teen Court co-director, said 12 to 14 teen volunteers is typical for Teen Court, which is held during the school year from August to the end of May. There is a special Teen Court that is held during the summer months, but they don't have the actual hearings.
The teens will hold hearings during their time in Teen Court.
"Two of the teens for an evening of hearings will serve as a prosecuting attorney and a defense attorney. One will serve as the bailiff and clerk. The rest that remain will serve as the peer jury," Horoho said. It runs like a typical hearing.
Teen Court will be dismissed to deliberate on the cases it sees. Horoho, co-director Betsy Vastbinder and case manager Cheryl Hastings will be in the jury deliberation room with volunteers "and we'll just be talking about how we can help the child or the teen that we're hearing the case from that night, what things would support them, what things in the community we could get them to interact with that would help them grow in someway or restore their standing in the community or anything that would be beneficial to them."
Volunteers are high school students and can be in the program for multiple years.
Teen Court volunteers hear cases about children between 10 and 17, Horoho said. The hope is to help divert "these kids that are coming to us with police reports from the justice system and actually have an impact on them so if they're faced with a similar situation again, they won't make a negative decision again and try to keep them out of the justice system completely," she said.
The hearings are typically status offenses, "things that if they were 18 or even 21 or older, it wouldn't be an issue," Horoho said. Examples she gave were underage drinking, having vapes or cigarettes, and occasionally theft and disorderly conduct.
Kosciusko County Chief Deputy Prosecutor Brad Voelz oversees the Teen Court program to make sure everything they do is above board, said Vastbinder.
Before this year's Teen Court volunteers got sworn in, Voelz said the volunteers became active participants in "our administration of criminal justice."
Teen Court is based on the idea of restorative justice, Voelz said. Restorative justice is based on the fact crime causes harm. Justice is to provide healing to that harm.
"Restorative justice states those most affected by crime, including the offenders and the victims, should participate in that healing. It stands in contrast to most methods of justice, which tend toward punishment and retribution," Voelz said.
Restorative justice programs have both the highest rate of victim satisfaction and offender accountability of any justice method, he said.
In the upcoming months, the volunteers will have to make many decisions. While doing so, Voelz said the teens will learn a lot about justice an,d hopefully, they'll learn a lot about other kids in the community.
McGrath welcomed the teens and said she was glad they were volunteering in that way, whether they had an interest in the law or Teen Court just seemed like something interesting to do.
McGrath thanked the parents for supporting the program and wanting their children to be involved because the teen's interest usually stems from what they're learning at home first.
"The fact that this is intriguing to them tells me that you had some likely input in that and encouraged them to do this," McGrath said.
With restorative justice, even in the adult system, McGrath said, "We talk about reformation not retribution. Our Constitution talks about reform and rehabilitation and not just punishment."
Teen Court is able to reach kids while they're young enough and not saddled with any sort of conviction, any sort of adjudication.
"We get them on the front end of maybe some tendencies" and Teen Court could possibly help those children, McGrath said.