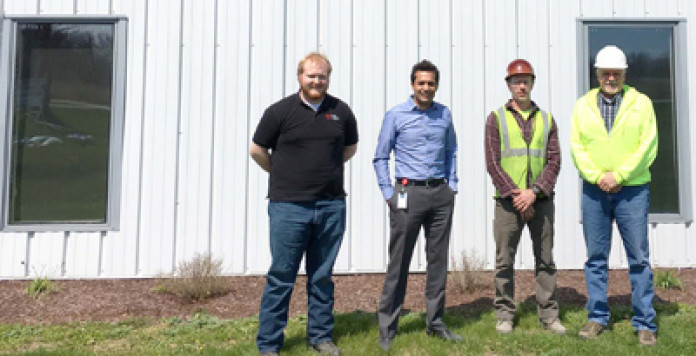 Local casting company Metcast merged with Texmo and is looking to add 25 employees in the near future.
Metcast was acquired by Texmo Precision Casting in 2014. Since that time, managing director Arjunan Ramachadran and process engineer Ezra Bates have been looking for unique ways to grow the company. Texmo employs 31 people at its Warsaw branch and over 5-00 worldwide.
The real estate project will cost $2.5 million and has already began, courtesy of Felderman Design-Build, Fort Wayne. Through the process of growing, the company plans on adding 25 engineering positions within the next five years.
Ramachadran and Bates both stressed that reinvesting in the company and Warsaw community were their main focuses as a company. Texmo is partnering with local high schools and colleges, such as Grace, to train engineering students in practical ways. At least two Grace students will be given internships with the company within the next year, with the goal of becoming employees.
Texmo makes multiple kinds of casings with numerous materials. Its biggest industries are medical equipment and aerospace technology. It currently makes parts for Zimmer-Biomet, General Electric, DeWalt, Cummins, John Deere and Johnson & Johnson.
The company is now renovating its factory on East CR 500N, Warsaw, so that new equipment may be added and older machines can be upgraded.
Many of the machines Texmo uses regularly were designed and optimized by its own engineers. Instead of buying a new furnace for a project, Ramachadran said that they would rather create their own custom one. Bates said that this practice helps the company stay above the level of competition.
Texmo of Warsaw had a hand in multiple important projects in recent years, Ramachadran said. It built the lightest possible air-data recorder – the so-called "black box" – for commercial airplanes, and their devices could be seen in reports of plane crashes. Its engineers also designed DeWalt's latest cordless nail gun.