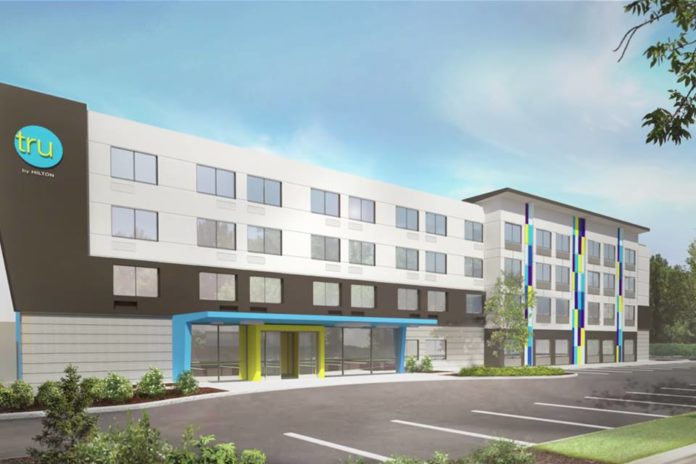 Jill Boggs wasn't just talking about the existing cluster of hotels near Center Street and U.S. 30 at a recent meeting about a possible new highway through Warsaw.
The executive director of the Kosciusko  County Convention and Visitors Bureau was also speaking for several new hotels planned nearby.
In the next few months, that heavily traveled intersection will see construction for three hotels, according to the city plan office:
• Tru by Hilton will seek to construct a hotel along Prosperity Drive north of the Ruby Tuesday restaurant.
• Another hotel – exactly what name it will take is unclear – is eying property north of the Tru Hilton site.
• Fairfield Inn plans to construct a hotel near the Indiana License branch offices nearby and to the south of U.S. 30.
Details about the size of the hotels and when construction might be complete have not been released publicly.
Those three hotels will presumably join at least five existing hotel properties within a mile or so of U.S. 30 and Center Street.
The fact that three hotels could join the lineup is welcome news, Boggs said.
"Any growth in any community by way of new business is such an opportunity," Boggs said. "That many hotels in that one area is a good sign for our community. We're excited about it and so are some of the hoteliers. … It creates a good competitive nature."
She said she believes the demand is being driven by corporate business use as well the City County Athletic Complex and an array of special events, including various festivals and other attractions.
She said the growth in construction of new hotels follows a national pattern that is partially due to a growing economy and a newfound willingness among people to travel more.
Meanwhile, development of the Tru hotel will follow two tracks.
On Monday, city council was informed of plans by the hotel to have property that is part of its development be annexed into the city. The request is voluntary and involves less than an acre of land and will involve several approvals by city council.
At the same time, a site plan will be reviewed by the city plan commission, said city planner Jeremy Skinner.
Talk of a future limited access highway that would replace U.S. 30 across northern Indiana has just begun. Local leaders are just beginning to look at optional paths for the highway.
An addition of three new hotels further solidifies Boggs' belief that any future highway be located in a way that accommodates the growing hotel cluster.
The proposed highway would stretch from Fort Wayne to Valparaiso but is not yet on the state's list of approved projects.
Representatives of a local coalition on the highway hosted its first meeting last month and hope to have options ready for public review this fall.
Boggs said she believes authorities involved in highway planning understand the importance the cluster represents.
"They're looking at every angle. They're up against a lot, trying to make decisions for the future,"  Boggs said. "I just wanted, for my stakeholders that I represent, to make sure that was publicly mentioned and I think it was well-received."