The Indiana Department of Transportation's "Community Crossings" grant is helping maintain Warsaw's roads.
Its a 50/50 grant, with the City of Warsaw receiving $720,000 from INDOT, making for a total of $1.4 million available for the 2016-17 asphalt season.
Nearly $800,000 of those funds will be used for what is called "Micro-Surfacing"– a cost-effective method or preserving pavement by applying a thin layer of asphalt. Micro-Surfacing work should hold up for 7 years.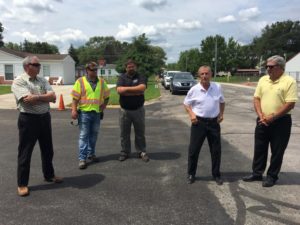 The Community Crossings grant will cover 38.06 miles of road maintenance in Warsaw– approximately one-third of the city's road network. The specific roadways receiving maintenance are as follows:
.96 miles of resurfacing (Main Street – completed in 2016)
10.9 miles of Rejuvinator (maintenance)
14.4 miles of Micro-Surfacing (maintenance)
11.8 miles of Cracksealing (maintenance)
Kosciusko County also received funds from INDOT in the amount of $997,028. Their money was used for paving/resurfacing projects that were completed September through November of 2016.