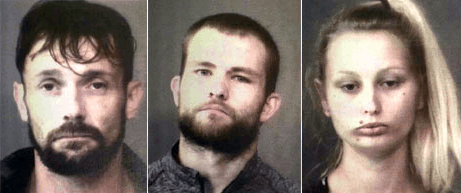 Three people from Warsaw are facing burglary-related charges after allegedly breaking into a woman's home wearing masks and stealing items.
The accusations follow last week's early morning foot chase near 100 S in which the K-9 unit had to be called to help officers pursue one of the suspects.
A Warsaw Police officer responded to a Brook View Avenue home where a resident had reported masked intruders. As the suspects fled out of the back door, 21-year-old James Bradley was apprehended. The Times-Union reports officers found brass knuckles, a cellphone, and a watch on Bradley that had been stolen from the home.
32-year-old Nathan Dimmock was arrested after the K-9 track.
19-year-old Jacquline Egolf was also arrested in connection to the burglary.
Court documents indicate Bradley and Dimmock entered the home by breaking a window and kicking the garage door open. Bradley said they ran from the residence when his girlfriend, Egolf, called them and said the police were coming.
Dimmock was convicted of theft on Dec. 20, 2013, in Kosciusko County Superior Court I.
Bradley was also arrested and booked into the Kosciusko County Jail in August for maintaining a common nuisance, driving while suspended with a prior, resisting law enforcement, resisting law enforcement with the use of a vehicle and carrying a handgun without a license.