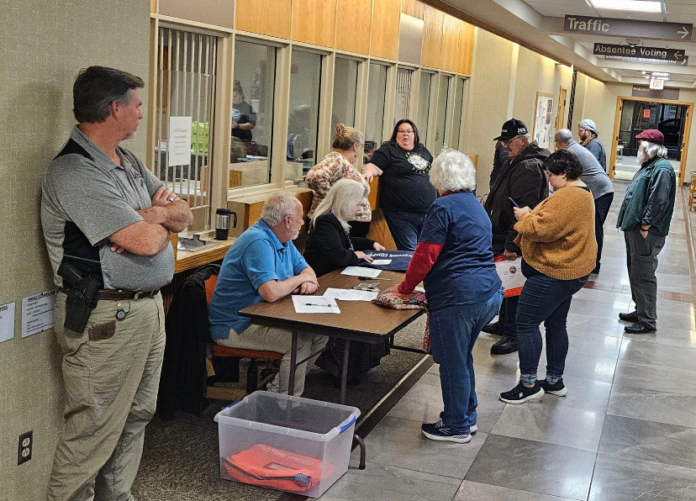 By Dan Spalding
News Now Warsaw
WARSAW — Results for an exceptionally quiet municipal election involving just a handful of communities wrapped up quickly Tuesday night.
Unlike most elections in recent history in which results straggle in until 9 p.m. or later, Tuesday's ballots from the four town elections — Claypool, Mentone, Etna Green and Sidney — were tabulated and announced by 7:06 p.m. at the Justice Building in Warsaw.
Warsaw, Syracuse and Winona Lake did not have contested races in the general election this year.
Results in three of Tuesday's contests for town councils had razor sharp margins with one outcome decided by a single vote.
Here are the results:
Claypool
Clerk-Treasurer
(L) Patricia Warner 25 votes 53.1%
(R) Miranda Stage 22 votes 46.8%
Town Council
Center District
(R) Nate Morton 27 votes 55.1%
(D) Elizabeth Heiman 22 votes 44.9%
North District
(R)  Benny Stage Jr. 25 votes 51.0%
(L) Paul Mullins 24 votes 48.9%
South District
(R)  Eugene Warner 33 votes 66.0%
(D) Dave Morgan 17 votes 34%
Etna Green
Clerk-Treasurer
(R)  Patricia Cook 44 votes 100%
Town Council (Choose three)
(L) Susan Klinefelter 55 votes 30.0%
(R) Heath Roberts 50 votes 27.3%
(R)  Jason Hanes 43 votes 23.5%
(R)  Keith Claassen 35 votes 19.1%
Mentone
Clerk-Treasurer
(R) Amanda Yaprak 67 votes 100%
Town Council (Choose three)
(D) Timothy Croy 62 votes 29.5%
(R) Shelley L. Krueger 61 votes 29.0%
(R) Jill Gross 59 votes 28.1%
(D) Hannah Beliles 28 votes 13.3%
Sidney
Clerk-Treasurer
(R) Lisa Parrett 17 votes 100%
Town Council (Choose three)
(D) Brandon Allen 22 votes 33.8%
(R) Sharon Rancourt 21 votes 32.3%
(D) Gavin Parrett 12 votes 18.4%
(D) Rebecca Adams 10 votes 15.3