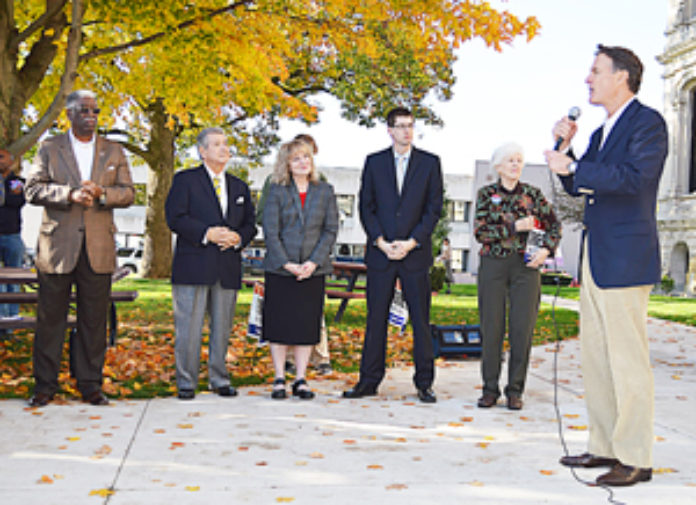 Indiana's top Democratic Party candidates came to Kosciusko County Thursday on an outreach mission.
The Democrat's barnstorming tour, scheduled to pass through at least 50 counties in the final days before Tuesday's election, stopped in Warsaw on an unseasonably warm and sunshiny day for a short but spirited rally on the county courthouse lawn with at least 50 people in attendance.
Many there held signs supporting Democratic Party candidates in what was likely the biggest gathering of statewide candidates for the party in Warsaw in recent  decades.
But it was the vast majority of Republicans that make up the local population that seemed to be the focus of comments by gubernatorial candidate John Gregg, who wrapped up the rally with his stump speech. "We can win this race, but the only way we can win it is to reach out to the Republican Party and independents," Gregg said.
Pointing to how overwhelmingly Republican Kosciusko County voters tend to be, Gregg said the county is the only one in the state that has continually supported Republican presidential candidates since 1856.
Gregg urged each Democrat at the rally to contact four Republicans friends and ask for their support. "I know there are good Republicans here. Would you find four of them and talk to them for me?"
One of the issues Gregg highlighted was the methamphetamine and heroin epidemic that is plaguing the entire state. "As governor, we're going to have an adult conversation and that's where we talk about topics that people don't want to talk about, Gregg said. The drug abuse problem is not only a criminal issue, but one that affects the mental and physical health of people.
"For many people, rehabilitation works. Every dollar you put in rehabilitation saves $4 in health care costs and $7 in the criminal justice system," he said.
Other candidates speaking at the rally included Evan Bayh, who is seeking a comeback in a race for his old U.S. Senate seat;  Lynn Coleman, a candidate for the 2nd Congressional District; Lorenzo Arredondo, nominee for state attorney general; Glenda Ritz, incumbent superintendent of public instruction; and Christina Hale, Gregg's choice for lieutenant governor.
Each of the candidates gave a quick stump speech and none of them spoke of their opponents, instead choosing to speak about their legislative priorities and fellow candidates.
Bayh's initial opening remarks mentioned how Republicans appear to be gearing up to begin investigating a presidential candidate even before being elected, a veiled reference to Democrat nominee presidential candidate Hillary Clinton.
Bayh also invoked First Lady Michelle Obama's mantra, "When they go low, we go high," and stuck to an optimistic theme. The former governor and U.S. Senator is locked in a close race against Rep. Todd Young.  He expressed the need for improving education, protecting Social Security and supporting the American workforce, but did not give any specifics.
"Let's make this election about a better kind of politics in this country, A politics that emphasizes our hopes, not our fears, that allows us to pursue our dreams, not the nightmare we see when we turn on the television and see all that negativity," he said.
While attempts to woo Republicans might be a tall order, the rally did attracted two longtime Republicans, State Rep. Dave Wolkins and former State Sen. Kent Adams, both of whom continue to be big GOP backers.
However, their interest had more to do with old friendships than current political alliances.
Adams said he specifically came to say hello and "pay respects" to Judy O'Bannon, whose late husband and former Gov. Frank O'Bannon, died in office while Adams was in the General Assembly. O'Bannon, who headed the state's Main Street program before her husband became governor, was also part of Thursday's bus tour.
Without mentioning names, Gregg – during his speech – acknowledged a "couple of friends of mine from the legislature" who stood among the crowd.