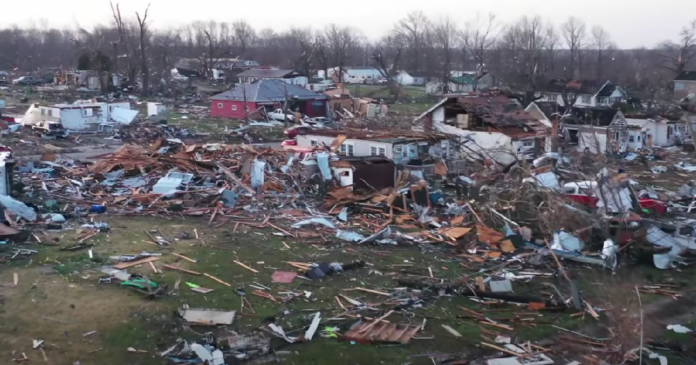 AP and Staff Report
INDIANAPOLIS — Sullivan County was one of the numerous communities pounded overnight by tornadoes across parts of the Midwest and south that killed at least 11 people.
The Indy Star reports three people are dead in Sullivan, which is south of Terre Haute.
A drone video on youtube by Ohio Storm Chasers captured the damage Saturday morning. A link to the video is at the bottom of this story.
Sullivan County officials have declared a State of Emergency for the areas affected by the tornado, Sheriff Jason Bobbitt announced.
In Illinois, storms collapsed a roof of a theater with a packed crowd inside during a heavy metal concert in Belvidere, which is just outside of Rockford, according to Associated Press.
The Rockford Register Star reported one death and 28 injuries at the theater.
Possibly dozens of tornadoes touched down into the night across at least seven states, laying waste to homes and businesses and stripping bark and limbs off trees, as part of a sprawling storm system that also brought wildfires to the southern Plains and blizzard conditions to the Upper Midwest.