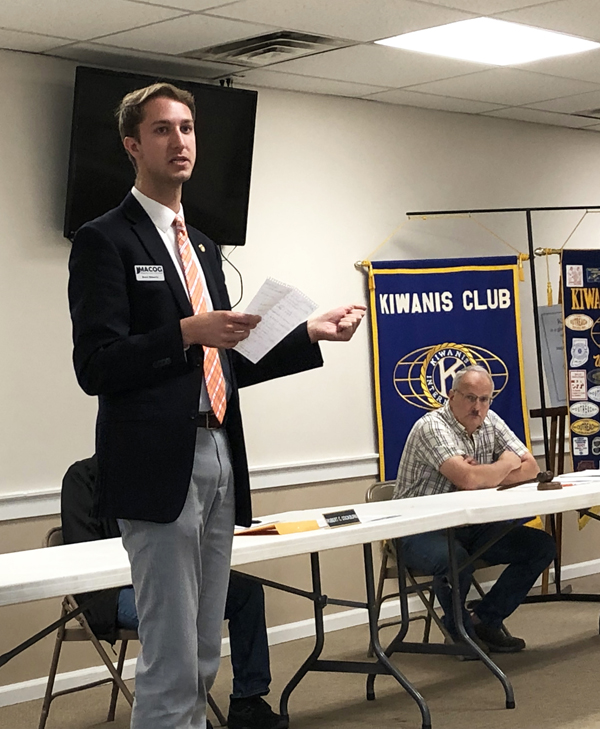 The following by Denise Federow, Times-Union Correspondent
The town of Milford is seeking several grants, and at Monday's Town Council meeting a public hearing was held as part of the requirements for one of the grants.
Brett Roberts, community development planner for Michiana Area Council of Government (MACOG), was there for the public hearing to inform residents of the town's application for an OCRA (Office of Community and Rural Affairs) Planning Grant to help improve the town's utility and future usage. Roberts said OCRA is offering up to $90,000 to towns with a 10% match so the town's portion would be $9,000 and the grant would cover $81,000, if approved.
He said they focus on towns with at least 51% low to moderate incomes and Milford's is at 54%.
"There's no displacement – this is simply a study to see what to do next," Roberts told them.
There were no questions from the public.
Town employees are also working on applying for a SWIF (State Water Infrastructure Fund) grant. Clerk-Treasurer Tricia Gall said they chose the projects – lead and copper rule and new water meters. Gall said they are mandated to replace at least 3% of the lead and copper lines but applied to do all of them.
"These are our two biggest and most expensive projects," Gall said.
They anticipate the cost for both projects to be $825,800 and Gall said they'd need to use $176,000 of the town's American Recovery Plan funds and another $100,000.
"They want a 50-50 match but we're not in a position to do that," she said and told the board that their consultant at Commonwealth thought it was fine.
She said they also had to include what the rates would be after the project, so since they're in the middle of a rate study she contacted the town's financial advisors and got an estimate that she put on the application. The application is due on Thursday and they should hear by mid-August.
Council President Doug Ruch said, "I commend Tricia and Steven for working on that – it'll be a big help for the town if we get it."
Utilities Superintendent Steven Marquart also reported he was working on a Community Crossing grant application for 2022.
Rodney Bray was at the meeting on behalf of his daughter who wants to conduct a dog grooming business out of his home garage at 308 S. Main St. He said there's plenty of parking but would likely only be one vehicle at a time and there would be no signs. He said she'd operate five days a week with about five clients a day.
He said he went to an Area Plan meeting and they told him it would be best if he got a letter from the Council. The Council approved having the clerk-treasurer send a letter of no objection to the Area Plan Commission.
A couple of residents – two of whom live at 409 W. Catherine St. – questioned what the town's next steps will be in dealing with the fire damaged home at 410 W. Catherine St.
Town officials sent a 60-day notice and Gall said the 60 days will be up July 25. Ruch asked town attorney Jay Rigdon what their options were in getting the property cleaned up quickly. Rigdon said they had three options – fine the property owner, compulsion to clean up by court order or receivership. He said the likely option would be enforcement where the town would clean it up and put a lien on the property. The Council approved having Ruch pursue the quickest enforcement procedure possible.
The neighbors asked how long the town would give it – she (property owner) doesn't have the money to pay fines and they said kids were playing in the house now and it was a safety hazard.
Rigdon said that was why the Council approved having him act as quickly as possible and told them, "We are limited by what the state law allows us to do."
There was a lot of discussion about issues at the park including excessive littering, alcohol consumption and Marquart asked the town marshal Derek Kreider if they could get more police patrols out there. Kreider said they have increased patrols and a half dozen arrests have been made at the park in the last few weeks.
They discussed the possibility of using some park funds for increasing security at the park since they didn't have a concession worker this summer. A resident wanted to know why they needed to take money from the parks if the police already had the funding. Kreider explained they were having manpower issues and while they have been patrolling the park more, "Our main responsibility is the town."
Marquart also wondered if they could increase restrictions on decorations at the pavilion as there has been problems, particularly with plastic confetti getting all over the park and that is hard to clean up.
Gall said they could add it but if they can't enforce it, what's the use? She said they require trash to be brought to the dumpster and that's rarely done. Several suggestions were introduced but none seemed to work. They'd continue discussing options.
Marquart asked for residents' assistance on several items, including: 1.) Making sure trash containers are easily accessible – not placed behind mailboxes, cars or obstructed in any way as the automatic arms cannot pick them up; (2) helping control mosquito population by making sure there are no containers with standing water on your property; and (3) respecting the park by not littering and not bringing alcohol to the park.
In other business, the Council:
• Heard the clerk's office would be closing early at 4 p.m. July 21 and would be closed all day July 28.
• Was asked by Kreider for approval to hire two full-time and two part-time officers. He was told they'd meet in executive session to discuss that and set a meeting for Thursday at 6 p.m.
• Heard mosquito control treatment has begun.
• Approved three four-hour sessions of supervisory training.
• Heard the fire department appreciated the community support of the recent photo fundraiser.