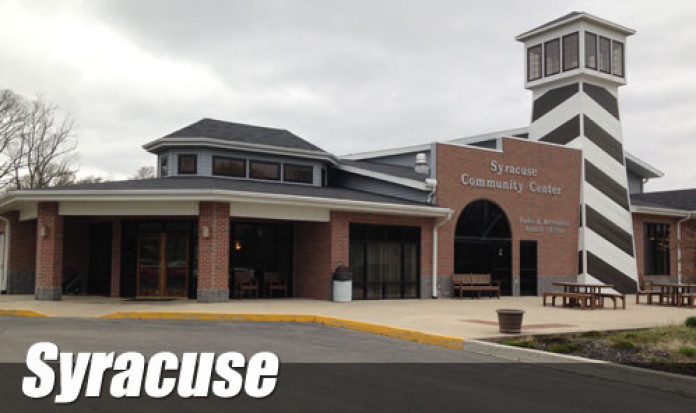 by Denise Federow, Times-Union
A long-running dispute between the town of Syracuse and Turkey Creek Regional Sewer District over billing may be coming to an end as town council members signed a settlement agreement at Tuesday's council meeting.
New Town Manager Michael Noe told the council he felt the amendment to the contract was the "right way to go." Town attorney Vern Landis said he reviewed it and it met the criteria, and he urged the council to sign it.
After the meeting, Noe explained some of the terms of the agreement. He said Turkey Creek Regional Sewer District would pay the town $140,000 for past expenses billed plus their normal billing for January and February. Noe said they are going to disconnect from the town of Syracuse's sewer system, he believes by June, but they will have until Dec. 31 if needed.
Until that time, the cost will be $2.76 per 1,000 gallons of sewage and if they go beyond Dec. 31 the cost will be $3.50 per 1,000 gallons.
According to the original intermunicipal agreement for sanitary sewer service contract of 1987, Turkey Creek is only supposed to send 88,000 gallons and that amount remains in effect, according to Noe. For any amount over that, there is an extra charge.
That's where the dispute started. In January 2017, former Town Manager Henry DeJulia reported Turkey Creek was only paying half its bill even though they were sending excess flow and it was backing up into residents' homes along Medusa Street. The town had to install additional catch valves and costly improvements to the wastewater treatment plant, and reportedly DeJulia had advised Turkey Creek on a couple of occasions that they would have increased costs.
Noe said there are two lift stations that Turkey Creek was pumping sewage to —Medusa Street and Miller Merry Manor – but it was particularly the Medusa lift station that kept getting excess flow and causing backups.
The agreement also has Turkey Creek Regional Sewer District reducing its flow by 60 percent and installing 65 more flow collection catches, according to Noe. The district will work to have water pumped out until it disconnects from the town's system. It also agreed to pay $1.50 per gallon for anything over 88,000 gallons.
Once Turkey Creek signs the amended contract/settlement, it will be responsible for paying the cost of any damages caused by excessive flows/backups or pay the town's $5,000 insurance deductible per occurrence, whichever is less.
Noe said he wasn't sure of the difference in the amount the town billed Turkey Creek versus the $140,000 but he thought it was "a pretty good deal for Turkey Creek."
Now that the Syracuse Town Council has signed the agreement, when Turkey Creek Regional Sewer District's board signs it, it becomes official.